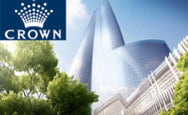 luxury-hotel-Crown-Sydney
The project to build six-star hotel Crown and VIP-casino in Barangaroo South, Sydney, is approved by the community leaders and local council. Hotel resort complex will have 4.5 thousand sq. m. of green space, high and low storey house, more than 75 restaurants, cafes, bars and other outlets. The cost of the project is AUS 7 billion (USD 5,2 billion).
It is worth noting that the construction plan of this complex has been changed as the public were concerned about the scope of the project. The construction of a heliport was excluded, the pier was limit in size, as well as number of green spaces was increased.
According to the Crown Resort company representative Robert Rankin, the construction of the complex will be completed in 2021. The main high-rise building will be a hotel with a casino.
Earlier, the government of South Australia has presented a new tax for gambling industry; which will affect the international operators, which previously profited from reduced bet rates. The taxes will be based on where the bet was made and not on where the company is located.