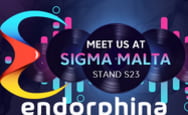 Endorphina presents new games at SiGMA'19
Endorphina, the ambitious game provider from Prague, has successfully stepped foot into the lights of Sigma Malta last year for the very first time. The company's representatives were impressed with the size of the event and the quality of attendees that decided to return there even before the end of last year's show.
So, with this new year, what can you be expect this time around from Endorphina?
Endorphina's colorful and playful game portfolio is ready to entice and invite you to play and have a fantastic time. Wherever Endorphina's stand is, the warm and thrilling vibe will always make itself known. This year, however, they decided to make sure you'll know where to go – as they are bringing in a real Revolution. A Dance Dance Revolution (DDR) MACHINE to be more precise!
The colorful lights, catchy songs and a complete rush of endorphins is exactly what you can expect at their revolutionary stand number S23. It doesn't matter if you are an affiliate, client, prospective client or someone who hasn't heard about Endorphina yet (which we highly doubt – remember ICE 2018?), just stop by their stand, say hi and try your dance moves on the Dance Dance Revolution machine. You never know, you could be the one to win some amazing gifts and create some colorful memories!
Sigma Malta won't just be about fun for the game provider. The strong sales and account management team led by the formerly established CEO Jan Urbanec will be there to discuss all business related topics with the visitors and share some of the company's courageous plans for the next year.
Maria Bashkevich, Head of Marketing, says about the event: "Malta is a very special place for us. You can feel the igaming spirit in the air. That's why we are delighted to be there among the exhibitors once again. I will be ready to meet all our media partners, affiliates and streamers and to strengthen our professional relationship and have one or two dance battles with the visitors as well!"
So, do you think you can beat Maria and the rest of Endorphina in dancing? To find out about this and more, make sure to visit their stand S23 at Sigma Malta!
If you're interested in learning more about the company, schedule your meeting with the company's representatives in advance via their dedicated landing page: https://endorphina.com/sigma-malta, or via email at: [email protected].

* The avobe information is provided by the Spanish gaming website NeonSlots.