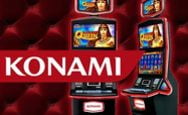 Konami will release a new modification of Concerto slot
According to a press release, the new version of the slot machine has a dual-screen 27-inch high-definition. It is vertical, as in the original version, but has a lower profile and implies a different angle view of the player. This will affect the user's posture, which increases comfort and convenience.
New Concerto slots are designed to make players posture relaxed, which is due to the accessibility of the Spin button and panel with touch screen.
Director and Product Manager of Konami Gaming Steve Walther commented the release of the new slot:
For many years, machines with slant screens have been popular and suitable for players all over the world. Therefore,, we strive to bring maximum benefit for operators with a new product. This will be possible thanks to flexible configuration of the slot, quality and reliability, as well as a broad portfolio of compatible games.
Konami Gaming declared the extension of its slots range in August, noting that the series will include a variety of machines. It will include slots with new formats of display, which will be achieved using slant, curved and flat single screens.
We remind, that the company Konami Gaming office in Las Vegas has the Silver Certificate of Leadership in Energy and Environment Design (LEED).