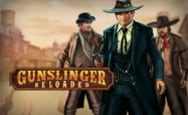 New Slot Gunslinger Reloaded by Play´n GO
On the 25th of October, software developer Play´n Go released new slot Gunslinger Reloaded. Set in the Wild West this 5 reel slot has 25 paylines and features a cowboy bounty hunter and has 3 bonus features to help make the gameplay more interesting. The Bounty Hunt feature lets you chase a villian through the streets of the town and face off in an old fashioned shootout. You also have the chance to test your shooting skills to win a progressive jackpot if you hit playing cards or activate a round of free spins by successfully hitting some empty bottles.
CEO of Play´n GO Johan Törnqvist said; "The Western genre is extremely popular and well-known all over the world so, when designing a game like this, you have to be very faithful to the conventions of the genre. Our producers made sure that the game captures the look and feel of the Golden Age of Westerns in both the main game and all of the added features, containing some of the most popular elements, to give players an immersive experience."
So get your cowboy boots on and say Yea Haw as you spin those reels …...