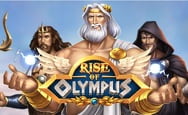 New Play´n GO Slot Rise of Olympus
22nd August saw Play´n GO launch the Rise of Olympus slot which is themed to the legendary Greek Gods. This slot features a 5x5 grid that the symbols drop into from above. Winning combos can be created horizontally and vertically and explode to allow other symbols to fall into their places.
Poseidon, Hades and Zeus each have their own symbols and unique bonus features that are linked to their individual strengths. If you are lucky enough to create a combination of all 3 of the Gods then the resulting Wrath of Olympus will be felt throughout the game as each of their features are triggered one after the other. There are also 3 different Free Spins rounds where you can choose how many spins you have and what features will be available during them.
CEO Johan Tőrnqvist said "Everyone is familiar with Greek mythology so, if you are going to base a game around it, you have to do it right. I believe that the attention paid to the style of these characters will pique a player´s interest; and that the uniqueness and the detail of their characteristics will enhance their gameplay experience."