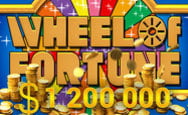 Lucky man won USD 1 200 000 on the slot machine Wheel of Fortune
According to the IGT representative, the player won the progressive jackpot in the amount of USD 1,2 million on the slot machine Wheel of Fortune in the New York-New York (Las Vegas, USA). This is the second gambler who has left a casino with millions in 2017. Neither representatives of the IGT nor casino administration haven't given further information about the winners.
Public Relations Manager of IGT Michelle Schenk commented:
Winners have the opportunity to stay anonymous, and they often use it. Wheel of Fortune series was very successful both for players and the gambling industry as a whole. For 20 years, slot machines have paid out more than USD 3 billion and made more than 1,000 people millionaires. Although I do not have any information about how much money players have lost on slots during the period.
As previously reported, slot machine from NetEnt paid a EUR 3,5 million Jackpot to the resident of Finland at the casino Paf.