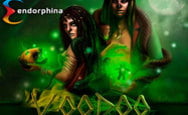 Endorphina company introduces slot machine Voodoo
The creators of the Voodoo slot machine have been inspired by the mysterious world of the old religion enchanting people for centuries not only with magical rituals but also by bleak traditions.
Ten winning lines, 3 row and 5 reels – these are the baseline characteristics of the new device. Visual and sound effects of the slot machine are designed in an atmosphere of gloom filled with cries and hisses of invisible animals and fantastic creatures that inhabit the forest.
Game symbols in the form of a crow, the head of a jaguar, witches and wizards, as well as one of the main loa (spirits) of voodoo religion Damballa or Great Serpent are appropriate for the subject of the game.
The slot will satisfy both the novice and experienced player – the device is easy to handle and has a number of features to make the game more dynamic and exciting at the same time. In particular, the Voodoo developers implemented the possibility a forced stop of the reels (skill stop) and free rotations.
Endorphina  marketing director Lucie Kadlecova said:
Many game manufacturers offer themed slots before the Christmas holidays. This is not our case. Voodoo slot is a real experience of mystery, it is able to really captivate the player. We are proud of the creation of this game. I can promise that soon there will appear no less great successors of Voodoo.
Endorphina – this is the company from Prague. It has been successfully developing slots since 2012. Engineers and managers of the company are focused on the creation of products that can combine customer appeal and compliance with the latest technical trends.