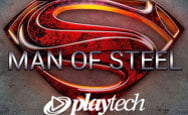 Playtech presented slot machine Man of Steel
The popular 2013 movie Man of Steel, created by DC Comics, served as the theme for the new gaming machine. The main characters Superman (Henry Cavill), Lois Lane (Amy Adams), General Zod (Michael Shannon), Perry White (Laurence Fishburne) have become symbols of the slot.
Man of Steel will have 5 reels, 40 paylines and 7 free spins on a roll of a combination with the symbol of kryptonian. What's interesting is that the wild symbol is performed by both Superman and General Zod. Announced RTP is 95.05%.
The slot from Playtech has nothing to do with the gaming machine Superman by Amaya, which is based on the earlier DC Comics.
As the Playtech company says, the acquisition of rights to use the characters of the movie Man of Steel is not a final deal with DC comics. The launch of a slot machine about comic book character Green Lantern is planned in the near future.