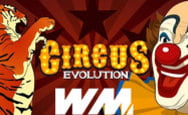 World Match launched a new HD slot Circus Evolution
The slot machine Circus Evolution contains all the key elements of the circus. On the five reels of the device, the user will meet elephants doing various tricks, lions, clowns and circus performers. Circus Evolution HD has three rows of cells that are filled with colours and offer a big win.
The activation of free spins means a double growth of all payouts. In addition, the slot has Wild symbol, which increases the odds of a player to get a prize by replacing one of the main cells. The machine also has a bonus game, during which you are to hit a balloon with a dart. For accurate throws, the user receives additional payouts.
Executive Director of World Match company Andrea Boratto commented on the release of a new slot:
Circus Evolution HD is the first release of 2017, which, of course, is only the beginning of a series of successful games. After all, everyone loves a circus and will play on this slot that embodied a burst of colours and fun.
Many new products of World Match are made using HTML5, which endows their slots with high quality graphics.
Previously, the company announced the release of World Match Pinguizz HD slot with five reels, three rows and 25 paylines.