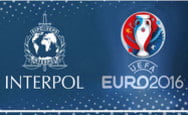 Interpol seized USD 13 mil from illegal gambling during Euro-2016
As a part of the fight against illegal gambling activities, during the European Football Championship were conducted series of raids in China, Greece, France, Italy, Thailand, Malaysia, Vietnam and Singapore. Interpol officers arrested more than four thousand people, accusing the organizations in illegal gambling activities during the Euro-2016. In total they seized more than USD 13 million, which were obtained illegally.
According to Interpol, the illegal bookmakers took bets on more than USD 649 million on the outcome of the Euro 2016. It is worth noting that Chinese law enforcement agencies have noted very heavy traffic on illegal online gambling sites.
Football championship Euro-2016 took place from 10 June to 10 July. The winner was Portugal, which won the match with France (score 1: 0).