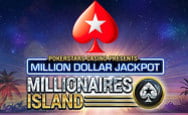 PokerStars Casino added exclusive slot Millionaires Island
PokerStars Casino Players will have the opportunity to play on an exclusive slot machine Millionaires Island, which offers a minimum jackpot of USD 947 100. This jackpot is already active and its size increased to USD 1,1 mln.
Players can qualify for the main reward, even at such low stakes as 50 cents. In addition, users will have a lot of other prizes in the game of "Island of Millionaires".
The game is already available on PokerStars Casino sites and on all European markets, where the casino Amaya is available.
Managing Director of Casino PokerStars Sam Hobcraft said:
Millionaires Island is the first exclusive slot developed by PokerStars Casino and is already added to the list of proposals.
Casino management is confident that it is only the first game in the series to be developed by the company. New products should help the casino to become even more popular among players.