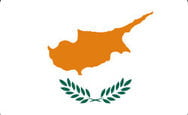 Cyprus
Regulator: Cyprus National Betting Authority (NBA)
Site: http://www.mof.gov.cy
Address: Michael Karaoli & Gregori Afxentiou 1439 Nicosia
Phone: +357 22602723
Act of 2012
After years of debates, the Government adopted "Betting Act" in 2012 that made gambling in land-based and online casinos illegal.The new law established that only sports betting, horse racing and lotteries are to be the only legal regulated forms of gambling and only sports betting and lotteries are allowed by online gambling law in Cyprus.
National authority
Under the new law, the Ministry of Finance established the National Betting Authority (NBA) as the governing body which would license and regulate the industry and be responsible for managing all aspects of gambling within the country borders.
NBA powers include the protection of minors and problem gamblers from aggressive advertising, providing licensing and monitoring services for legal gaming operations, fighting against illegal forms of gambling and cooperating with the Ministry of Finance to support the taxation for providers of gambling services.
"A" and "B" classes in gambling
All online and land-based gaming operations are traditionally divided into two classes: "A" and "B".Class A refers to terrestrial gaming operations, class B is devoted exclusively to online games.
Class B terms give the NBA powers from gambling legislation of Cyprus to regulate the rules concerning the interaction of players with online gambling sites and the interaction of the online gaming sites with both NBA and players.
Online rules
As mentioned above, the NBA provide rules for players and for gambling providers.Players must be at least 18 years old and undergo proper identification.They must register an account with the provider of gaming services. They also cannot add funds in cash and must be able to provide evidence that they have a budget to return all deposits made by credit card, debit card or electronic transfer.
Below, there is a list of requirements to providers, that must be met in order to offer online sports gambling or lotteries and get casino license in Cyprus:
The applicant for each license must be free from a criminal record.
An application for a license must be submitted to the NBA.
Candidates acting as private individuals must be at least 25 years old.
Applicants acting as corporations must be registered in Cyprus.
Applicants must provide proof of solvency to cover players' winnings.
Internet sites must have an adequate record and internal control including security.
Internet sites must have an active bank account which provides services in Cyprus.
Funds of the player must be separated from the operating funds according to new gambling law in Cyprus.
Office or headquarters must be located on the territory of Cyprus.
The purpose of these rules is to ensure a safe and legal environment for players so that sports betting and lotteries were not a source of money laundering or other illegal actions.
Hot news
Since October 2016, the Government of Cyprus announced about the issue of gambling licenses to online bookmakers and gambling operators, benefits of which will be a revenue of Cyprus.
According to the local gambling regulator (Cyprus National Betting Authority), payment for the license will be:
for one year – 30 000 euros;
for two years – 45 000 euros.
Companies with gambling license in Cyprus also have to pay tax at 10% of the gross revenue and 3% to the control commission.
Gaming operators also must have:
a bank guarantee of 500,000 euros,
an additional capital of 500,000 euros.
All licenses are freely available from October 3, 2016.