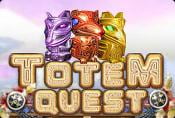 Online video slot from Games OS Totem Quest gambling game is created with 25 wagering lines and as usual features numerous bonuses. Actually, bonus rounds are the calling card for Games OS, because they use not only standard 'pick me' schemes, but also add to the gameplay mini-games. And, Totem Quest is not the exception. You need to pick falling gems or catch them in its feature rounds. Moreover, now you can make it completely for free using its demo version and virtual credits. Here you can discover more about how you can play for real money.
Totem Quest gambling game online with free bonus
Adjusting configurations to your demands
From the settings point games by this provider are rather traditional ones, because you are offered various options to alter clicking on the specially created for this purposes slot machines keys. The total bet parameter is regulated with the line price which is multiplied by amount of activated strips.
Thus, how to alter all those things and establish the desirable betting amount? Operate with the following buttons for reaching the goal:
Line Price – this option regulates the bet per line quantity. It is developed with traditional '+' and '-' buttons changing its amount in ranges 0.5 – 5. It involves 6 variants for increasing and decreasing the stake per line – 0.5, 1, 2, 3, 4 and 5.
Bet One – activates only one strip. Press again on it to add one more line.
Bet Max – takes on wagering all 25 slots lines. Note, in slots by this provider this option activates the ultimate amount of lines only. Thus, if you want to set the highest possible total stake, you need to do it choosing 5 coins and only after it pressing on Bet Max.
Also, we have a useful tip about activating appropriate amount of lines. It is time-demanding task to click 25 times or 16 times on Bet One. Instead of it – press on 16 or 25 numbers placed at the both sides of the reels.
Another players' observation – more lines are activated, the higher is chance to assemble the free slot games victory. If to play with all strips, you have the following option for wagering: 12.5, 25, 50, 75, 100 and 125 coins. Thus, the minimal cost of the whole spin is 12.5 and the ultimate – 125.
The gaming mode is regulated with Spin and Auto Spin keys. Spin triggers just one round, whilst Auto Spin – the pre-defined series. With its selector or shortcuts 5 and 10 you may initiate the necessary amount of self-regulated rounds.
The potential pays in this game
What to expect from Totem Quest slot? Of course, each player will choose his own stake and get his/her wins. Nevertheless, the special events and groups of slot machines pictures paying more/less can be defined relying on the Paytable info.
This slot features two groups of icons: tiles – pay less, but it is easier to assemble them in the winning chains and totems – pay more, but it is complicated to catch the most luxurious lines as 4 or 5 of a kind. 
For five of a kind with totems (yellow looks like eagle, orange – fox and purple – wolf), you may get such rewards: 1 000, 1 500 and 2 000 coins. However, the money reward is calculated due to the coins amount which increases by bet per line.
For example, you have collected in slots free for pc two totems with fox with 1 coin value for a line. Thus, you will be credited 10 x 1 coin = 10 coins.
All winning events happen from the left column, start from 2 of a kind and pay only on the activated lines.
Flying tiles, puzzles and falling gems
Slots does not have any secrets from its players and all available bonuses are outlined at the Paytable area. In Totem Quest, it is possible to catch found bonuses activated with different symbols:
Free spins – minimum three such icons reward with free rounds due to the such proportion: 3 symbols – 7 free spins, 4 symbols – 10 free rounds, 5 – 15 games. These pictograms do not depend on the wagering lines.
Indian bag – you need minimum three such bags for opening the Catch the Gem round. You will be redirected to the mini-game and need to catch falling from the above gems for collecting the prizes. Catch 10 gems and fill the bag with your precious stones.
Bombs – again, minimum three icons on the wagering line take you to this bonus round. You need to catch 10 flying tiles. How to make it? Click on the tile few times and it turns into the slot games gem images that fills the special meter. When you catch 10 gems, the bonus will be stopped.
Totem Quest logo – the principle for opening the bonus is the same. In this game you need to collect puzzles. It involves three steps. On each level you choose the colour – red, yellow, blue or green, and unite them clicking on them. When picture is assembled, the prize is revealed. Be careful, 2nd level has one empty puzzle and 3rd one – two empty. If you choose such colour, the feature is ended.
Your pays in bonus rounds are greater if high wagers are set. In addition, online casino slot games players recommend to operate this game with mouse or touchscreen, especially – Flying tiles round. It will be easier to click on them and catch.
Does the description of this slot machine sound interesting? Try your luck playing this slot on [[$whereToPlayLinks]]