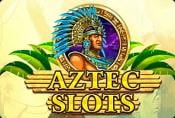 Let`s start our review of online slot game Aztec Slots from an unbelievable fact about this ethnic group – do you know, that they sold their children and themselves to pay off the debts? Yes, sounds fantastic and it is not the only amazing thing about them and that is why this tribe is mentioned in literature, cinema and gambling.
This page provides detailed review of this 9 payline slot by GamesOS, presents information about gameplay features, interface elements, regular and bonus payouts. It also features free demo version on which even beginners can master their skills.
Aztec Slots slot game with free bonus
Ultimate settings adjustments guide
To become really skilled and competent gambler it is important to know how betting options are regulated. In all slots games powered by this provider there are 3 buttons used for this purpose:
The stake size directly depends on number of paylines – to control it in a proper way click Bet One button for consequent amount of times
Plus and minus icons placed under Value window helps to select denomination of coin between 0.5 - 7 credits
Maximum stake of 63 coins are put with Bet Max button
To check if all the settings were stated right, pay attention to Value and Bet windows.
In Aztec Slots free slots online gameplay Auto Spin option implies triggering of repeated chain of automatic spins. Click it and choose necessary number of spins in range of 5 - 1000 spins. The last button that has great influence on gameplay is Spin. Hit it when wager size is selected and see who the reels have produced one separate rotation.
Audio settings panel contains keys used for regulating sounds intensity or switching background melody off.
What you need to know about the symbols
In Aztec Slots gaming machine Paytable section is opened with round View Payout button located in left bottom corner. It consists of one single page that is however very informative – descriptions of 12 regular and 3 bonus symbols are suggested there.
Before to characterise symbols featured in slot casino machine, let us clarify one important moment: all regular icons form winning combinations only being placed on selected paylines in consequent order from left to right. Symbols in a line should be of one kind.
Now let`s see what Paytable elements can bring more payouts to your balance:
The pictogram with purple circle is the cheapest symbol featured in Paytable – 5 symbols of this kind cost up to 40 credits
Price of image of tribal feathers is much higher – 100 credits is maximum amount of credits one can receive for 5 icon combo
Do you see how 5 pictures of shawls are appearing on a payline? Congratulations, 500 coins are credited to your balance
In Aztec Slots free slot games mount of prizes are increasing when we reach the Paytable`s top symbols. Five icons of urns landed next to each other on winning line cost 1000 credits
Let us finish regular symbols overview with the most highly-paid icon – image of dragon`s head that grants up to 1500 coins for a line consisted of 5 elements
And certainly, our paytable observation will be incomplete without mentioning so important and rewarding special bonus symbols.
The first emblem is called 'Bonus'. When 3 pictures of it appear on a payline 'Trail of Supreme Bonus Game' is started.
Four or 5 Scatter symbols trigger 3 or 30 free spins respectively. If you enjoy free spins, we have a list of slots with free spins just for you.
Although Wild symbol does not create any prizes by itself, it substitutes other icons on reels causing additional payouts.