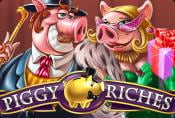 Piggy Riches video slot online created by company NetEnt. Its theme – the life of rich pigs: ermine mantles, thick wallets and jewellery. Oligarchic pigs call the shots.
Reels are spinning on the background of a luxurious mansion. Signs of wealth are visible upon them – money, diamonds and gold. Even active lines' indicators on the slot's sides are designed as packs of dollars.
Piggy Riches slot concise management, common for all NetEnt games, allows quickly familiarise with the game and understand its principles.
Piggy Riches video slot online
Piggy Riches: How to play
Playing Piggy Riches video slot online you find that it is very simple. To do this, you need to perform three steps:
determine the level of bets;
set the value of a coin;
start the reels.
Determining bets and the value of a coin
Bets are determined by using "Level" button, switches on the sides of a window with a digit. It can vary from 1 to 10. The size of a bet, respectively, will be from 15 to 150 coins. Each level adds 0.15 credits (euros, dollars or other currencies).
The cost of a coin is set by using the "Coin Value" button or switches on the sides of the little window. Range – from 0.01 to 0.50. Coin value increases each time by 0.15 points too.
Both parameters affected the bet size of a spin in general (one rotation of reels).
Minimal bet: 1 bet level with x0.01 coin value – it's 15 coins or 0.15 currency units.
Maximal bet: 10 level with x0.50 coin value – it's 150 coins or 75 monetary units.
Additionally, the value of a coin affects the size of the player's bankroll. The value can be seen in "Coins" window in the bottom right corner. Bet in coins is also shown in the "Bet" window in the far right corner of Piggy Riches slot machine.
How to start the reels?
After determining bets, you can run reels in three ways:
By the "Autoplay" button;
By the "Spin" button;
By the "Max Bet" button.
These keys are located in the centre of the Piggy Riches online casino slot control panel. They are the biggest and are easy to see.
"Autoplay" – automatic gaming mode. The reels begin to turn themselves without your participation. At any time, you can interrupt the "Autoplay" mode. When you click on this button, a window with a different number of automatic spins from 10 to 1000 is shown on the left.
Clicking on any number will run the reels. In the same window, the "Stop" button appears. By clicking on it, you can stop the "Autoplay" mode.
"Spin" – a round button with two arrows in the centre. It runs a single rotation.
"MaxBet" – allows you to make the maximal bet with one click and immediately start the reels.
Piggy Riches symbols and combinations
The slot has five picture symbols, five card symbols from Ace to ten, wild and scatter symbols.
Wild symbol – a rich hog in a gold frame. It substitutes for all symbols except the scatter. Combinations with its participation bring triple payouts.
Scatter symbol – the hog's wife in a silver frame. Five scatter symbols multiply winnings up to 100 times. Furthermore, three or more of these pictures activate free spins. Maximal free spins number is 28 and the highest multiplier is 6.
A bag of gold is the most generous character. If five bags appear on the screen, the prize is multiplied by 2,000.
Five golden bank cards multiply the win 1,000 times;
Car keys – 750 times;
Wallets with dollars – 400 times;
Pink piggy bank – 200 times;
Five card symbols multiply the gain from 125 to 50 times.
A complete list of all benefits can be seen in the paytable by clicking the "i" button which is located in the lower left corner of the slot machine for android. To remove a table, click on the same button.
[[$whereToPlayLinks]] casinos offer to play this video slot for real money. There are all necessary conditions for comfort gambling here.
Note
The Piggy Riches slot machine doesn't have any bonus games. It's a pretty simple five-reel slot. RTP (Return to player) ratio here is 96,10%, which means that the player returns from 96 to100 monetary units invested in the game. As a rule, NetEnt slots have high RTP. And learn more about slot machine game strategies here.
How to win Piggy Riches (cheats and tricks)
In any slot machine, your chances of winning pivot on RTP, the amount you have already spent and the amount you have won during the game. Besides, you should remember that, usually, a big win is 1,000 to 3,000 times the bet, so it makes no sense playing with a bet of 1 cent if you want to win more than USD 10–30.
So, in the following situations you will be better off doing as suggested:
Main rule:
Your prize per spin is 100 times the bet or more
Scatter Symbol
You get Scatters twice in ten spins
Freespins
You get free spins twice in ten spins
You win 50 times the bet or more in free spins