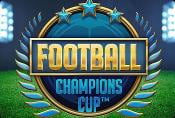 NetEnt company created the most football slot machine specially for football fans. It is called Football Champions Cup. This unusual and interesting slot in addition to online slot machines for real money itself offers various functions, game benefits and bonus rounds. Player can use 5 wheels, 20 fixed game lines to win and take part in virtual football championship, play-off series and score a penalty to competitor's goalposts.
Football Champions Cup online slot with free bonus
How to play
Football Champions Cup is a game with five drums, where player should collect combinations of symbols on 20 fixed lines. Before starting the game, player may use interface buttons to place bets and set maximally convenient game parameters. There parameters are changeable for handy management of player's bankroll.
Among regulated characteristics are:
The size of a rate level can be controlled by "forward" and "back" buttons, which are placed on each side, there is index number between of them. The minimum bet is 10 coins for the line. The general bet on a spin, which costs from 20 to 200 coins, will depend on bet on one line. It is possible to make maximum bet in casino slot machine online with the help of Max Bet Button.
The Coin Value, which can be set be pressing on buttons, located on the left and on the right from number in column. The real money equivalent and the number of game credits will depend on the coin value.
Then you can play game with help of buttons, spin reels on your own or set series of automatics spins by Autoplay button.
Symbols and payments in the game
Football Champions Cup offers players several types of pictures to create combinations. The numerical and alphabetic symbols, borrowed from card games belong to the first group. Such symbols bring the minimum number of prizes according to the table of payments. The second group consists of images on football subject. Whistles, t-shirts, football boots and gloves. They bring bigger prizes. The third type of images are symbols with special functions, which perform additional actions in a game.
Special symbols are:
Wild symbol with the image of a soccer ball. Such symbol replaces any missing image in a chain and plays with all pictograms, except for bonus and scatter. On 2nd and 4th drums you may see "imposed" wild symbols, which fill missing symbol and make combination longer in online slots.
Scatter is a gold cup. When you see three scatters on the wheels, the prize game with free spins starts.
Bonus is a symbol which activates prize game with special mechanics and an opportunity to win additional credits.
Bonus game
Prize game, which is activated by three bonus images on the game field doesn't look like any other bonus. It is the built-in mini-game which consists of 5 stages, each of them has two rounds. During each stage player will need to score goals to the opponent's goalposts and then to protects his team's goalposts in online slots machine:
At the first stage you'll see goalposts and goalkeeper. Each corner is marked with a circle. It is necessary to choose one of four circles and to score a goal. If goalkeeper holds off player's attack you will win nothing. If you score goal, there will be a figure under the circle, it is the number of prize credits.
At the second stage you will protect goalposts. There will be also placed points in the corners. When you're choosing one of them you should predict which one of them will your rival use. If he scores goal, you will lose your prize.
Free spins
The system of free spins in Football Champions Cup online slots and games is created in non-standard way. Instead of some number of free spins, it offers the mini-game, which imitates play-off series with a possibility to be in a quarterfinal, a semi-final and in the final competition. Player is given 4 free spins at each stage. In total, there will be 16 free spins and when they are over gambler gets bonus credits on his account.
Game Specs
Scatter Symbol

Yes

Freespins

Yes (4)

Automatic bonus

Yes