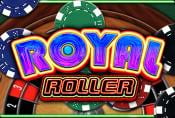 Slot machine Royal Roller is the creativity work from well-known company in gambling world – Genesis Gambling and has high winnings. Despite the fact successful spins falling rate in not so high, you will have the opportunity to catch up all gone things to the middle of the game. All wins are significant.
Game machine has the standard 5 reels. You can find more info and slots with 5 reels on our website. The number of gameplay active lines varies from 1 to 25.  Slot's subject is games of chance. Here you can play in poker, roulette, bingo. Each game brings fun and prizes. Only the special characters in the game will give you an enviable fortune.
Royal Roller online slot game review
Royal Roller settings
If you are playing free slot machine for fun Royal Roller you are given a credit of 2000 coins. It is not changing even with changes of all the other settings on the control board. The sum remains unchanged always.
You can do two bids for game. The first one is necessary and done in all cases. It is the bet on 1 line. It range is 0.01-0.50 coins.
Optionally, you can set a coin bet or line bet. If the monetary rate is set then total maximum stake is set automatically. So, if you put on 1 coin the total bid will be 25 cents. If you set the maximum value of 10 coins the total bet will be equal to 2,50 coins.
Players need to use settings in order to do the bets. There are 25 lines at all. If to choose one line, the maximum bet is 10 cents and fixed automatically. The maximum stake of 2, 50 coins will be in case of the maximum 25 lines.
In order to start rolling players must push the button Spin.                       
Game combinations
Casino slot for freeRoyal Roller has 3-4 combinations with simple elements. The luckiest are:
Cards
Chips
Domino bones
Bingo balls
For cards combinations you will get:
1000 coins – five pictures;
500 coins – four elements;
50 coins – three symbols;
2 coins – two icons
Chips will bring the following winnings:
500 coins – five pictures;
250 coins – four symbols;
25 coins – three elements
Domino and bingo will get the opportunity to take away till 250 coins for maximum combinations and to 25 coins for minimum sequence. Players can win minimum 5-10 for letter images and maximum is from 75 to 100 coins. The numbers 9 and 10 give from 2 to 50 coins.
It should also be noted that amounts above are not the clear gain. In addition, during the count, they are multiplied several times. Because there are multipliers in this device. The more images are in combination – the higher multiplier effects of the game. This way for a combination of five images is multiplier x5, four elements – 4x, three - x3, two - x2. In addition to the overall gain more is added the value of line bet.
Special icons
Online slot machineRoyal Roller has two special symbols – wild and scatter. Each of them is to multiply players' wins. Wild symbol several times multiplies all winnings. The more Wild symbols fall out on the reels – the higher is prizes.
Wild element can appear on any reel. Winning combinations are calculated from left one to right. As for the Scatter symbol, it is shown as "Royal Roller" word in the game. This element does not work with any other picture in machine. It is also neutral to Wild symbol.
It can appear anywhere on the five reels. If three or more characters land on at the same time, you will get the chance for 5 free spins. In addition, the gain in the bonus game is multiplied under factors influence + the maximum bet.
As a single value, Scatter symbol brings the following wings: five characters give 50 coins, four – 10 coins, three – 5 coins and two Scatters – 2 coins. In this case, multipliers also are getting involved in gaming process with increasing the winning amount several times. The more images are in the combination – the bigger is your money. You can read more about slots bonus features on our website in the section Bonuses of slots.
Wanna play this video slot for real money? Welcome to [[$whereToPlayLinks]] casinos! Click here to get a big money win!
Game Specs
Scatter Symbol

Yes

Freespins

Yes (5)