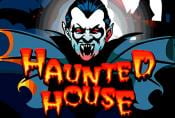 Vampire theme is so widespread among the producers of slot machines, that almost every company has the game with such design. Slots by Playtech is not an exception – this is why they created Haunted House slot game devoted to count Dracula, probably the most known vampire in history. This game has a relatively simple construction – the playing field consists only of three reels with five winning lines on them. Spooky atmosphere of an old castle is reached owing to gloomy sound effects and bright graphics. 
Haunted House slot game with bonus
How to play a slot 
Haunted House can be called a slot machine with one of the easiest-to-operate control panels. It contains only four yellow buttons, which show up on the dark background. In order to start playing you are to adjust the following parameters: 
Bet for one line. The arrows located on both sides of it allow to minimize or increase this number. In casino slot machines to play you can choose any number between 0,01 and 5 coins.
Min Bet adjusts the quantity of lines to form beneficial combos on them. Select from 1 to 5 of lines and keep in mind that this amount influences the size of total bet you are going to gamble with and increases or decreases your opportunities to win a jackpot.
Max Bet immediately sets the highest possible amount of lines (5), maximum coin stake per each of them (5 coins) and spins the reels, so that you play paying 25 coins for one spin – a great solution for high rollers!
Finally, Spin is the most important key – by means of it you can rotate the reels and start one gambling round. 
If the background sounds of top free slots do not appeal to you or bother you, it is possible to turn them off. In order to do that, click on the speaker button in the upper right corner. Also, by means of the same hot key you can adjust the level of sound, make it louder or more quiet.
If you want to read more about general information on How to Play Slot Machines visit the corresponding page of our website and get all the facts you need. 
Payouts and system of symbols 
In this game in order to view payouts there is no need to search for a special division in menu – all the values are depicted on the main playing field, and you can view possible winnings at once. 
It is enough to collect only one icon of garlic (the scariest thing for every vampire!) in order to win a prize. In this case you will be paid 5 coins.
Two garlics in free slots just for fun award you with 25 coins.
Tree candles will pay 50 credits.
In order to win 75 coins, collect three golden goblets on one of the lines.
Knives will bring you 100 credits.
Three coffins are worth 200 playing coins.
The most valuable are images of crosses – if you gather three such pictures, be ready for an impressive reward consisting of 300 coins. 
All the combinations of free slots to play online must start in the left corner and extend to the right – only in this case they can be considered as beneficial. If you wonder where you can play Haunted House for real money then you can visit [[$whereToPlayLinks]] casino and win money for entertainments there. 
Bonus games 
You are likely to notice that Haunted House slot doesn't obtain any Wilds or Scatters. This fact means that it doesn't include any breathtaking bonus rounds like modern video games offer. But still there is a chance to obtain a generous prize. To do that you should land three sequences of Garlic images on all paying lines. In this case slot machines at casinos will pay you 1800 coins – this is the maximum jackpot amount available here.
Casinos with Haunted House