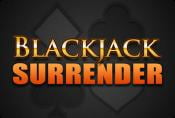 Among Playtech series of online slot games devoted to Blackjack card game, Blackjack Surrender casino game is the most dynamic one. Developer included into it slightly different regulations, which made it more interesting. There was even conducted work on creating maximally realistic graphical design, which was very fruitful: Blackjack Surrender got live dubbing and the game field is like real card table. Not very loud background music supplements the general impression from this video casino game. More kinds of Table Games await on our website.
Blackjack Surrender casino game
Mechanics of Blackjack Surrender game slot process
The main peculiarity of this video game machine by Playtech is the possibility of preschedule ending of the round with the saving of half of the bet. This function of video slots decreases the profit of casino that is why user is allowed to use it with first two cards. It is impossible to use this function if dealer has an ace.
In order to start the game player has to set the rate size and place it. Seven game pieces with such nominal: 0,1, 0,5, 1, 5, 10, 25 and 100 are placed on the game table for player to make bet. Video slot by Playtech is played in five boxes, where gambler should put game pieces. To do this you just click on each box, after you decided the rate of the bet.
The minimal rate on box can't be less than 1.5 credits and the maximal one can't exceed 100 credits. There is no restricted number of bets in boxes of slots for fun. Virtual opponent will also have two cards. If he has open card – it is an ace and player has a chance to use insurance – end up the game and get back the half of the rate, thus keeping him from losing everything when opponent gets blackjack from an ace and King.
In the Blackjack Surrender free Double button is for doubling previously placed bet. Rebet And Deal allows repeating the last bet and dealing cards right away. Gambler can add card with the help of Hit button. Stand button gives dealer the right to take more cards and lets player to switch between boxes. User can also change the colour background by pressing on the picture of small brush in the corner of the screen. You also may read some more information about this game or find more of this kind on the Blackjack page.
Points for cards in video slots machine by Playtech
Because of the absence of any informational materials in Blackjack Surrender casino slots, player has to get acquainted with nominal system before placing money:
Ace – gives 11 points;
Jacks, Queens and Kings add 10 points;
Numbers have corresponding nominal: ten gives ten points, nine – nine, etc.
During the calculation of points from first deal it is always necessary to take into consideration the possibility of excess of cards, when the taken card makes the total amount of points bigger than 21. In such case this box is losing one. That is why if player doesn't know this principle he has to get acquainted with it.
Summary
The perfect realization of Blackjack Surrender slots online game allows to enjoy the game process and gambling atmosphere to the full extent and feel yourself like in real casino slots. Thanks to the wide choice of rates player can create his own tactics, which will bring victory. The advantage of this video game is that the familiarization requires minimal number of knowledge and skills. You may try to play this video slot in [[$whereToPlayLinks]] casinos. Collect free spins games and other bonus features to get a real money win.
Casinos with Blackjack Surrender