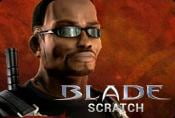 Scratch cards – popular type of free slot games, which successfully came over from real world to online casinos. Blade Scratch – slot machine from Playtech, where symbols are hidden under nine cells with coverage. Using the vampire cinema franchise Blade as a theme, this video slot gives a chance to win up to 1 million coins for successful combination of symbols.
Blade Scratch slot machine with no deposit
Game rules
Before starting the game session, it is recommended to get acquainted with rules of Blade Scratch, which can be found in Help section. If you wish you can read general rules of scratch cards in special section of our website. After getting acquainted with the description you can move to the game settings.
In the first place you need to place bet using +/- regulators in Card Price menu. This is the amount which will be taken away from the gaming account as soon as you press on Play button and start casino games. This parameter also influences on the maximal sum of prize available in Blade Scratch. For example, when player chooses 100 coins, the award increases up to 1 million. The theoretical return to the player percent is 94,62%.
Player can open cells one by one – to do this one should hover a cursor over the specific cell and click on it. You can also use Auto Scratch button. The award for each round in Blade Scratch is generated in a random way and doesn't depend on symbols, which one has to collect. The main aim of the player is to get three identical pictures.
Gambler of online slots with bonuses should take into account that only four out of nine pictures take part in prize drawing. In some way the game process is similar to the "Battleship". By opening the cells one by one player should guess where are the need pictures placed, in order to "take down the foe ship". But in Blade Scratch free online slot it is ammunition of vampire hunter.
You can play manually buying and activating the cards or use automatic mode. In order to do this press on Autoplay menu and choose the desirable number of attempts. After these actions you should only wait till they end or stop buying new cards with the help of Stop button.
Game field
The interactive screen of Blade Scratch casino video slot for fun consists of three parts. The left side of the game field is occupied by card cells. There are nine of them and there are three ones in a row. The left side is taken by:
Portrait of main hero Blade;
Window with the maximal win with set bet;
The gaming hint "Scratch 4 squares";
The gaming hint "Match 3 symbols to win";
"Prize" window, where gambler sees the award for an attempt.
The lower part of the screen is occupied by keys, which help to control the gaming parameters. The handy placement of elements on the game field allows to easily familiarize yourself with slots games. Among Playtech developments Blade Scratch is one of the easiest games to get acquainted with. If you've liked the demo version of this game you may move on to the game on real money. Anyone who decides to do this can visit [[$whereToPlayLinks]] casinos and play on this slot machine and win real prizes.
Control panel
You can make settings of Blade Scratch before the game by pressing on the buttons on the panel which is placed in the lower part of the screen. As far as the game is available in a free mode you can easily try your chances with demo credits. There are such buttons placed on the panel from left to right:
Play/Auto Scratch – buys card and erases the coverage.
Card Price – this regulator influences the card price and the amount of the award.
Autoplay – sets series of 10-50 automatic buying.
Apart from this console has two windows – Bet and Win, which show the set bet and amount of last award. These elements also help to get familiar with Blade Scratch casino games for free online. If player wants he can set the sounds and visual effects of the table game using Settings menu.