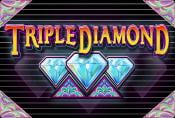 Throughout its more than a century-old history, classic one-armed bandits not only haven't lost popularity but keep up even with the most high-tech developments. Online slot game Triple Diamond by IGT company is one of those devices. The slot is a continuation of another popular game from this manufacturer known in online casinos as Double Diamonds.
The updated device was released in 2014 and had almost the same interface as first slot machines that had become available to fans of gambling at the end of the XIX century. The perfect amalgam of gold gambling traditions and advanced technologies allows you to get the maximum of thrill from the game.
Triple Diamond online slot with free bonus
How to play the Triple Diamond
Free classic casino slot games are very popular among beginners thanks to the simple structure, which makes it possible to start the game without going through the learning complex rules. Triple Diamond slot confirms this thesis once again. It is equipped with three reels and allows betting on 9 paylines. To set the range of active lines, use the triangular buttons "-" and "+" under Lines inscription. Enjoy classical one armed bandits with 3 reels? Visit the 3 reels page and enjoy your game on classical slots.
The game has 7 betting options:
10 coins;
20 coins;
30 coins;
50 coins;
100 coins;
200 coins;
300 coins.
You can set one of these values in the menu similar to lines controls. Above it, there is the inscription Line Bet. To all three wheels, you are to use the round yellow button with Spin inscription. During the rotation, you can hear a simple melody and clicks that mimic the working mechanism of casino classic slots. This creates a more distinct feeling that the player is in one of the first gambling halls.
You can learn all possible payouts by pressing the Paytable button. The page with game rules opens by pressing the key Game Rules. Both controls are located in the grey panel at the bottom of the playfield. There is also an icon in the form of a speaker which turns the sound on and off. Paid combinations of symbols are formed on the active lines from left to right.
Game symbols and design
As befits casino slots and games of this genre, Triple Diamond slot has a laconic design. The reels are placed on a dark background with light strips and you can see the logo of the game in the form of three gems on them. Almost any slot machine of a classic series has a lucky number 7 among symbols. Developers of IGT didn't sidestep this attribute of fortune too. Seven is one of the most expensive icons that gives up to 100 prize money. For this, you need to collect a cherished combination 777 on an active payline.
Another traditional symbol – the inscription Bar. The history of its occurrence has two versions. According to one of them, this was the name of a company producing slots to play, but there is no evidence of this. The second more likely option of the origin relates the appearance of the character to a word "bar" in relation to chocolate. As you know, cash payments were banned in early years and prizes were given in sweets. Triple Diamond has a Bar picture available in three versions:
One blue writing with payments up to 10 credits;
Two purple inscriptions with ratios up to 20 credits;
Three yellow lines paid with the multiplier up to 40x.
Slot machine slot games do not provide a Scatter symbol, a risk game or free spins, but there is a wild symbol substituting for all other icons. It is designed as the logo of the game and brings the largest gains. Payout for "Triple Diamond" inscription is up to 1199. If all these features are rather advantages for you, you can safely launch this slot and try to ride your luck.
Play slot machine Triple Diamond and collect triple combinations of diamonds. Take a chance, play the classic one-armed bandits and enjoy quality game. Learn about all the features of our one-armed bandits - in this page.