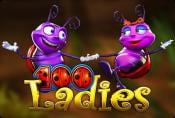 This online slot from 100 Ladies IGT Company will be valued by beautiful part of humanity. It is based on the idea of sweet romantic relations between two ladybirds. When they manage to combine one raw, gamer gets not only aesthetic delight, but also a lot of bonuses.
Online slot machine turned to be both profitable and entertaining; cartoon pictures, graphics, animation and fiery music while wheels rotation raise spirit allowing enjoy not only winnings, but also process of game.
Music is well chosen by producers, in general it is jazz backing tracks, which fallow cartoon noises. All soundtracks differ by their attention to details, it is feature of IGT. For example, when wheels speed their move there is a rising range of sounds, but not trivial buzz. Nevertheless, if you don`t like background music, you can turn it off.
100 Ladies online slot with wild symbol
Let`s discover interface
Your eyes look at standard free slot machine with rotating wheels. By the way, play has its own features:
Five reels;
One hundred lines;
Bets raise from 1 to 30 credits.
And now we observe interface. Its central dynamic part is occupied by five reels, where lies pictures of ladybirds – boy and girl, their accumulation, letters, sunflower and leaf clover.
"Levels" of game control stay in bottom. We give characteristic for every window, key, going from left to right.
In first window, we choose the amount of paying lines. Pressing on the sides of the window icons on "+" and "-"player regulates their amount;
Second window helps to manage sum of bet by credits in selected currency. The same icons "+" and "-"on sides provide possibility to increase it or reduce;
In Total Bet window is represented sum of future prize, according with chosen bet and amount of lines;
Central button with two arrows is used for starting wheels. It is autospin, saying another word, automatic rotation. Automatic regime can be stopped by second click at this button;
In the next window is performed number-prize from current wheels spin;
In following window, there is general gamer`s balance including prizes.
All data of the game are renewed automatically, namely, when player gets winning, it goes directly at his account.
Symbols of the game
Let`s consider meaning of every symbol on wheels, how many credits you can receive for them.
The most valuable is accumulation of ladybirds, they increase winning in 1000 times. Further down the list are loving bugs – boy and girl – both of them are able to increase your bet in 600 times; sunflower – in 375 times; and clover – in 350. Letters and numbers raise your profit in different ways, in general, they are "poor", from third to fifth line they multiply bet in numbers from 5 to 200.
Special attention deserve such symbols as Bonus and Wild. When fall three and more bonus symbols, gamer receives 10 free spins, thereby Total Bet is increased in two times. Wild symbol automatically becomes any profitable image for player, except for Bonus icon.
Gamers become a possibility to determine quality of graphics, if their computer is not able to support fixed parameters of play. For such settings, you have to click at wrench in the lower right corner of the interface.
If user tries to swindle, he will lose all his winnings. To conduct gameplay honestly, it is necessary to wait for the finish of all four reels' rotation. Bonus symbols appear only at 2, 3, 4th wheels. Prizes are shown in digital representation of currency selected by player.
In order to start playing, you need to place bet and find enough time for play process. It is worth to understand, there is no special strategy that provides guaranty of huge prize. The only thing that gamer is able to do for receiving higher winning is to choose maximum amount of lines and place maximum bets.
For more info read full instructions on how to play slot machines. 
Does the description of this slot machine sound interesting? Try your luck playing this slot on [[$whereToPlayLinks]]
Game Specs
Freespins

Yes (10)

Automatic bonus

Yes