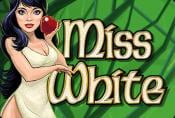 Modern version of popular Snow White story is recited in online slot machine Miss White developed by IGT software. The most peculiar trait of its gameplay is marvelous Multi Way Extra wins feature that allows to receive payouts for the same symbols placed in random positions on adjacent columns. End-to-end expanding symbol, 1024 win ways and special Miss White bonus will leave no place for boredom – test slots free demo on this page and make sure by yourself.
Miss White slot machine review
How to start new game
Some gamblers play slots for fun and pleasure, others think about money foremost. No matter, what category you belong to, each user has to know how gameplay basic settings and options are regulated.
To select appropriate value of 1 coin click point arrows under Coin Value button and choose between 1 - 50
Pay attention to Spin button when the stake is already selected. Click it and the reels will produce one rotation
Graphics quality options are adjusted with spanner sign located in right bottom corner of menu panel – put a tick to set best, high, medium or low extensions.
If you used to concentrate on every detail, press Games Rules button and learn everything about this casino slot machines starting from winning ways explanations, bonus features terms and ending with setting adjustment guide. This section was developed by IGT programmers and represents full gameplay instructions. If you are interested in other slot manufacturers, visit the Slots Developers section.
Paytable page is a kind of shortcut of the section mentioned before. It depicts how regular and bonus winning conjunctions are paid and highlights all questions about payments.
To control volume intensity click dynamic icon.
How the payouts are completed
The first page of Paytable acquaints the player with Multi Way Extra wins notion. Simply speaking, it means that the same symbols can be paid in any positions if they are placed on adjacent columns.
The second page displays two special symbols included to online slots free games Paytable and have ability to expand on reels – they are images of Snow White and dwarf. The feature works like this: if any random symbol appears between Snow White and Dwarf (or on the contrary) it transforms into Snow White and creates additional prize. The symbol where these 2 characters are pictured together acts as Wild.
Magic Mirror free spins round is begun when 3 and more bonus icons appear on reels 2, 3 and 4. Before bonus round is started the player is suggested to select an apple that will finally define the number of free spins (from 5 to 15). Available number of free spins is limited with 280 ones!
The rest of icons you can meet in slot machines at casinos are all regular symbol. They are called this way because combinations completed from them are paid due to certain regular rules that are:
Winning line is always consists of identical symbols
Minimum number of symbols in a line – 3, maximum is 5
Chain of symbols should be landed next to each other, no dissimilar symbols can be placed between them
So, if you see pictures of owl, flower, ruby, caterpillar, remember about these rules. The cheapest Paytable icons form cost 15 credits for 5 symbols, the highest price is granted for combination consisted of 5 pictures of prince – up to 150 credits.