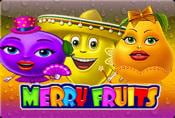 Happiness is not about fruit, but about their quantity in prize-winning combinations. And a striking example of this statement is slot game the Merry Fruits from Amatic company. Fruit symbols of this slot are familiar to many players: plums, oranges, cherries. But they are designed in unusual suits on this device. Each symbol is capable of forming prize-winning combinations on the payment lines. Besides, the slot includes two bonus pictures. So, the seven with the microphone is a Wild, and a star with moustaches is a Scatter, that is paid irrespective of its location on the playfield.
Merry Fruits slot game play online
How to play on Merry Fruits
It is necessary to determine the quantity of the active lines and a bet size before a start of the fruit mechanical gangster. The corresponding "Bet" and "Line" switches are located on the general console. Another method to adjust these parameters is to display them separately on the screen. To display additional sections with settings, it is necessary to click on one of the numbers on each side of the playfield.
How to win Merry Fruits (cheats and tricks)
In any slot machine, your chances of winning pivot on RTP, the amount you have already spent and the amount you have won during the game. Besides, you should remember that, usually, a big win is 1,000 to 3,000 times the bet, so it makes no sense playing with a bet of 1 cent if you want to win more than USD 10–30.
So, in the following situations you will be better off doing as suggested:
Main rule:
Your prize per spin is 100 times the bet or more
Scatter Symbol
You get Scatters twice in ten spins
Risk game
Your current win is exactly half of what you need to get to stop the game — Keep on playing