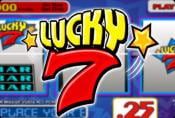 Lucky 7 slot games is a new creation of Betsoft. Everyone knows about magical qualities of number 7. It's hard not to notice this feature, when the whole genre of slot machines (classical video slots, to be exact) has a seven as one of the most valuable symbols. One cannot believe in those superstitions, but the Lucky 7 video game lives up to its name. The chances of getting a cherished 777 combination in this slot machine are quite high.
Slot game Lucky 7 play for fun
How to play the Lucky 7 slot machine by Betsoft
The developer tried to make this video slot in old-fashioned style.The slot's interface copies the design of vintage one-armed bandits. The slots is considered to be inspired by the first slot machine ever created, made by Charles Fey in the end of XIX century.
The video game has 3 reels and only one active line. Aside from main control elements, there is a coins slot and a lever, placed there to increase the resemblance of this casino slot play to first slot machines ever created. Also, this slot is pretty convenient, since the Paytable is located right above the reels on the gameplay screen. So, to learn the payment coefficients for a certain symbol or winning combination, the player doesn't have to press any buttons, open new windows, change a game mode or distract from a game in any other way.
In the beginning of a game the player can bet from 1 to 3 coins on one line. This parameter can be regulated using the BET ONE button, located in the center of control panel. You may edit it during all the gameplay. When the players set the bet level, this parameter will be highlighted in the special field of Paytable. To start spinning the reels of free slot machines play now the player has to press the SPIN REELS button. During the spins, a pleasant and simple melody will be played. To automatically start spins with maximal bets the player has to press the BET MAX button. You can find it on the main panel on the gameplay screen.
Symbols of Lucky 7 slot machine with Jackpot no Download no Registration
Considering the name and theme of the video slot by Betsoft, it's easy to guess that the biggest rewards are given by lucky 7. Payment coefficients for combinations with 7 can reach 5000 credits. This prize is given if the player has managed to get the 777 combination while maximal bet was used. The game's logo is the next most valuable symbol after 7. It can bring up to 750 credits for a combination in free slot machine slot.
Unlike most of the modern video slot machines, designed to look like classics one-armed bandits, the Lucky 7 slot machine has only one fruit symbol. It depicts a cherry and can bring up to 450 credits. Three other symbols are different variations of BAR icons. Prizes for them are ranging from 3 to 300 credits. In Lucky 7 slot machine player gets prizes not only for combinations of 3 identical pictographs. Small prizes are brought by combination of 3 any BAR symbols, or a cherry and two other symbols.
Usually classical slots don't have any Wild symbols, Scatters, bonus rounds or double-up games. Lucky 7 casino slot machines for fun isn't an exception. But the simple functionality of this video slot is fully compensated by large payment coefficients, convenience and chance to feel a pleasant nostalgia by immersing into the atmosphere of first halls with retro one-armed bandits that have ever existed.