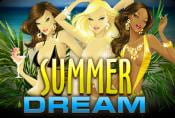 Enjoy eternal summer time with Summer Dream slot games free developed by Games OS with various bonuses and wild feature. If you have been looking for this game without registration or you are not going to download it to your PC, simply start gaming it right now from this page. Just in case if you have some issues opening it, check the Flash player – maybe you need to install it or refresh. At the same time, mobile gaming is available here too, but you need to visit mobile area. 
Summer Dream slot online with two bonus games
Settings and configurations
Summer dream game is created with traditional template – 5 columns and 3 rows in parallel with 30 alterable slots lines. As about its limits for wagering as well as counting payments to players achieved the winning event, they have added a bit diversity to its point. The total stake is calculated considering such parameters:
Bet – regulates the cost of one wagering strip. Its selector gives the players 6 choices in the ranges 0.05 – 1 coin. 
Add Coin – activates the certain amount of coins per line from 1 to 5 credits. 
Add line – places one more line on wagering changing its amount from 1 to 30.
However, it is faster and better use option Bet Max for activating all lines or slot machines keys with numbers placed at both sides of the reels. For example, you wish to turn on only 18 strips. Thus, you need to press minimum 18 times on Add Line function. Oh my God, it is eternity. Instead of its irritating clicking, do it with a one press on 18.
Also, another important moment is the general sum of the wager. For example, you have chosen all lines (30), all coins (5) and 0.05 as stake per line. How the total stake is defined? 30 x 5 x 0.05 = 7,5 coins total bet. Just set outlined parameters and you will see that eponymous casino slot online screen shows the same thing.
For conducting the game flow you can pick Spin or Auto Spins modes – just activate them with its buttons.
Collect pays for symbols of Summer Dream
Only entertainment, beautiful ladies and cocktails await for you on its reels. This game is based on vacations theme – you may create the winning events in it with mojito and piña colada, sunglasses, sling chair and beach volleyball in parallel with four girls.
The terms for assembling winning events and counting the pays for them are standard here:
Only combos on activated strips qualify for crediting all slots payout.
All winning chains appear from the left reel and cannot be broken. For example, three of a kind on 1st, 2nd and 3rd reels, but not on 1st, 3rd and 4th.
Prizes from Paytable are multiplied by line bet.
What is it 'line bet' and how is it calculated? It is the product of line bet by set amount of coins. For example, when we tested this slot, we set the maximal parameters – 1 coin bet and 5 credits per line. Thus, the line bet is 5 coins. We have been spinning its reels truly long for learning more about online slots bonuses and managed to collect nice pays with ordinary icons. Here is the explanation how to calculate your wins on your own:
If spin ends with winning events, you see them animated on the reels or at the Paytable.
Look on the pays at the info section for your combos, sum up them, if necessary.
Multiply the sum with line bet. 
One of our spins resulted with a Big Win – 800 coins. We have collected 5 girls in black swimming suits, two red-haired beauties (2 times) and two of a kind with girls in black-swimming suits. Thus, the equation for our payout is the following: (150+3+3+2+2)x5 = 800 slot machines coins.
Turn the reel into Mega Wild
Games OS states in the Paytable area that two bonus games in parallel with wild, which turns into the Mega Wild on the middle reel are involved to the gameplay in this slot. As usual, the special pictures activate the prize-picking rounds, you just need to complete the terms.
From our own experience with this game we can say, that it is easier to catch Shoppy Cheer bonus than Summer Girls. We activated the first one 3 times and collected – 255, 60 and 80 coins as reward. The rules are simple for this free slot machines bonus – just pick any summer stuff and collect coins. However, some are empty and end the feature.
In addition, we managed to catch the wild on the third reel and it activated Mega Wild feature – covered the whole column and gave us 3 separate wilds instead of 1. With its assistance, we won 175 and 950 coins.
As about the rules for triggering the bonus rounds, they are the next ones:
Minimum three pictures with Summer Girls logo on any line launches the eponymous bonus.
The same rule is applied to Shoppy Cheer event.
The sums in these rounds depend on your online slots betting sum with which the feature is activated.
If you've liked the demo version of this game you may move on to the game on real money. Anyone who decides to do this can visit [[$whereToPlayLinks]] casinos and play on this slot machine and win real prizes.