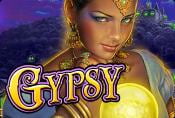 You can learn your fate in the online slot machine Gypsy with no doubt. Company High 5 Games has created a game which contains all the key elements of the wizarding world on five reels, so conjuring a prize will not be difficult given multiple bonus features of the emulator.
Gypsy online slot machine with free bonus
Management tips
Free slots for you five reels consist of three horizontal rows filled with cells that are arranged in combinations on 243 lines. This parameter indicates that for the construction of a winning sequence, symbols are required to appear in a row on adjacent reels from the left and not necessarily be in contact with each other. The minimal number of pictures for success is three.
Due to this feature, the device does not have a bet per line. There is a parameter Multiplier. Its value determines how a cost of one rotation will differ from the standard price 50 credits. Indicator x1 corresponds to 0.01 multiplier, x5 – 0.05 and so on up to x200, which corresponds to 10 game credits. The total bet is quite tricky to count so its size is always displayed in the Bet section. Separately, the window in the middle will show how many credits remain on the user's account and how much rewards has he got as a reward in the last round.
A spin is started, as usual, by the arrow in the bottom right corner. While it rotates, the reels are doing the same. They can be stopped prematurely by pressing the revolving arrow. For those who want to immerse themselves in the slot machine games play, there is a fantastic soundtrack which can be turned on/off using the speaker icon in the bottom of the control panel. Above this icon, Replay option is located. Its responsibility is showing the latest rotation of reels. At the same time, the Start button turns yellow so that the gambler could remember that it's a replay.
Payments for sequences
You can take a look at free slot machines combinations of symbols using a reference menu. It is triggered by clicking on the question mark icon. First, it would be nice to familiarise with simple pictures. The table shows multipliers for them for them with the conditional stake of 50 game credits:
Diamonds and Spades pay 5, 15 or 50 game coins;
Ace and King bring identical winnings which are equal to 10, 25 and 75 game credits;
Gypsy magic items (ball, candle and carriage) will bring 25, 50 or 100 units of virtual currency if three, four or five elements appear.
Slot games for fun picture of the main heroine features unique properties. It is of two kinds. First – single, second – double. Double-symbol acts as a pair of pictures allowing you to build a sequence of gypsies not up to five characters but up to ten. Therefore, there are individual payouts for such sequences. They range from 50 to 1000 coins for three and ten witches respectively.
Bonus features
Free online video slot games Gypsy has two game modes. The first – standard spins bets from the player's balance. The wild symbol occurs during regular mode – it looks like a game logo on a blue background. In addition to the substitution of simple images in winning combinations, it has a dual effect if playing in a combination with the protagonist of the device. Wild may drop on any reel other than the first. In free online casino games bonus rounds, the appearance of the wild symbol only differs by a background – it becomes purple, but all the previous properties are still valid.
Three bonus symbols can start free spin – a picture with the corresponding inscription. It appears only on the second, third and fourth wheels. After the right number of pictures appears, ten free spins are activated. They are done according to the latest bet per spin and are paid at once. In case if a combination of three scatters appear during the bonus round again, the main number of free spins is increased by five more. This can last until there are two hundred of bonus spins accrued.
Online slots game for doubling and drawing a jackpot are not provided in the device by High 5 Games.
More games from High 5 Games