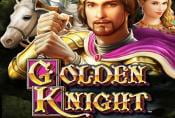 Launch online slot machine Golden Knight with cool bonuses. Slay the dragon, save the princess and get some pretty good rewards on this one device.
The topic of chivalry, honour and courage is raised in the online slot machine Golden Knight and definitely attracts the users. Twenty cells and three game modes – two basic to choose from and one bonus mode with free spins – help High 5 Games company to keep the attention of gamblers.
Golden Knight online slot machine with free bonus
Gameplay
Free slots to play online Golden Knight features the number of rows on the playfield. There are four of them while the number of reels is five. The game layout contains forty payment lines. You can activation 1, 10, 20, or 40 strips in the Lines section. This is done with the arrow keys or a special window that appears when you click on the number of lines. There, you select the size of bets per line. It varies from 0,001 to two 2 coins.
Above two mentioned parameters, there is + Feature button placed. It is responsible for the transition between normal spins and option Scatter Bucks. In the first case, the game runs at the set stakes, in the second case, all contributions are multiplied by two. Online slots with free bonus Scatter Bucks is only available when playing with 40 active lines because it multiplies that number by two. Thus, the maximum bet per spin is 160 credits. If the player manually reduces the number of active paylines, bonus mode will automatically turn off. A special window notifies about this.
The total price per round of free online casino games is always possible to see in the section Bet, the balance can be seen at any moment in the section Credits. Directly above it, there is a payment for the last spin of reels displayed. Rotations get started by pressing the blue key with an arrow. The same button can prematurely terminate a spin if you click on it while an arrow is spinning. Regulating graphics quality or the speed of rotation is impossible in the free games slot machines casino, but it is possible to enable or disable the sound by clicking on a small speaker icon.
What can help to win
The question mark on the control panel calls a reference describing game modes and symbols which are arranged in combinations. There are eleven of these pictures – 10 regular symbols and one Wild symbol. Payments are the following:
5, 20 and 100 game coins for three, four and five Nines, Tens, Queens and Jacks, respectively;
5, 50 and 150 virtual credits for three, four and five Kings or Aces;
20, 75 and 250 coins for a combination of horse and dragon;
25, 100 and 400 bets on a sequence of three, four or five pictures of prince or princess;
50, 200 or 1000 game credits depending on the number of dropped wild symbols – three, four or five.
Bonuses and features
Casino slot online payments for special Wild symbols that appear in the Scatter Bucks mode are separate. Visually, they differ from simple pictures by the small inscription on them located at the bottom of a cell. Both types, as usual, supersede any regular images and participate in the formation of combinations. Wild symbols drop on any reels. However, bonus pictures bring a certain prize when they appear in any part of the playfield.
It depends on a bet and the random coefficient on which the bet is multiplied. Minimal multiplier – 25. The maximum varies depending on a reel on which a special character drop. The first and the second bring a hundred, the third – two thousand, the fourth – a thousand, and the fifth – as many as 10,000 game coins. Getting the biggest benefits is easy as wild symbols often appear in pairs or even triples.
Bonus rounds are an important part of the free online slots no money from the manufacturer High 5 Games. They are represented by free spins of reels. To get them, you need to collect three scatters, which are called Free Games. They drop only on the second, third and fourth reels. Initially, scatters bring seven free spins, but they can appear again in a bonus combination the can prolong bonus rotations. Online slot machines with free spins round can last up to 98 rotations.
Another difference of the series of free spins is different payout multipliers for Wild. In the second and fourth vertical lines, their values are increased to 500 and 200 respectively.
More games from High 5 Games