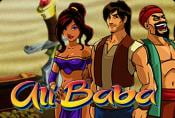 Ali Baba and The 40 Thieves
In slot machine Ali Baba and 40 Thieves produced by Leander, role of main character plays hero from famous fairy-tail – Ali Baba. On 20 active lines appears also leading robber. That gamer, who manages to open Sesame and reach treasure chests, will receive tempting prize – participation in free bonus entertainments of Ali Baba slot.
Ali Baba and The 40 Thieves online slot with free bonus
Management of slot Ali Baba and 20 Thieves
Functional of online slot machine settings is designed with maximum simplicity and in available form:
Lines – is used to change the amount of lines, taking part in game strategy. User is able to select any number of lines;
Bet Line – allows regulate amount of bet per line. Range of value varies within 0,01 – 25 dollars;
In both variants management is conducted by pushing triangular buttons that point top and bottom, respectively increasing or decreasing parameters.
Total Bet – informational window, representing general bet sum. Maximum value of round is 500$;
Spin – starts rotation of wheels. There is no function for automatic soins.
Symbols of one-armed bandit
Establishing of consequences in free slot machine Ali Baba is done in standard way – according determined conditions of lines and start from the first wheel. Detailed rules are represented in tablet of payouts Info. This section provides information concerning profitability of pictures and algorithm prize functions.
The highest symbol is portrait of Ali Baba. Even two images of this hero double value of bet per line, although, they are not able to refund full sum of rotation. Combination of five icons will increase investment in 2500 times;
Double payments are given by pictures with Robber, Monkey, Camel and Snake. The highest indicators of coefficients multipliers contain minimum x3, maximum x800;
Smaller pictures are represented by treasures: golden scarabs, rings, daggers, other items. This help to keep balance, filling it on 3-120 credits.
Bonus symbols of Ali Baba and 40 Thieves
There are four types of special symbols:
Wild symbol – portrait of Eastern Beauty. It owns function of replacement other symbols. While creation of combinations wild expands for the whole length of wheel;
Scatter – pot with jewels. It brings money prize without connection with boxes. The only its condition is appearance of 3-5 scatters on scoreboard. Bet is multiplied in 5-100 times respectively;
Free spins – Sesame. Mountain that hides enter to treasury. It falls on odd wheels. Simultaneous appearance of three pictures activates round of free spins;
Bonus – vase with gold coins on 2-4 vertical lines. It opens access to bonus game.
Free rotations
Prize round of free spins in online slot Ali Baba and 40 thieves allows playing free of charge during several rotations. Their exact number and multiplier coefficient should be determined before beginning of a round in a funny mini-tour.
This tour looks in such a way: player sees three doors, leading to treasury with chests full of gold. On each door is written maximum number of prize round, which are available in secret rooms:
15 spins by multiplier 4;
20 spins – multiplier 5;
25 rotations – 6.
In the caves player can choose from 4 to 6 chests, each of them provides free spins or additional multipliers. There is also opportunity to collect maximum possible amount of pictures, making profitable conditions of free game.
However, you risk to receive small amount of rotations. Choice of chests, where gifts exceed available number, stop mini tour and activate free spins with minimum indicators – 10 spins without a multiplier.
More chances for lucky finish of slots free online round are hidden behind the first door, offering no more than 15 spins. The last cave attracts by duration of free spins, but there are higher risks to exceed available number.
While free rotations wild symbols acts only on first wheel. Although, it has ability of "sticky" icon, which covers three cells of a wheel while the whole session.
Bonus round
Prize mini-game done in the format pick&win – choose and win. On the scoreboard appears image of 12 big jugs. One of them contains money prize, other – monkeys.
Lucky user, who manages to guess valuable jug, without any conditions receives coins and can continue gameplay. Appearing monkey calls the Robber.
In the last case gamer`s fortune depends on quickness of Ali Baba. If he runs in time and stops Criminal, who tries to break out the jug by "the power of thought", coins will be charges to gamer`s account in casino slot machines games. Otherwise, winning burns.
In general, player receive 6 attempts to guess "expensive" jug. 
Game Specs
Scatter Symbol

Yes

Freespins

Yes (5)

Active bonus

Yes

Automatic bonus

Yes
More games from Leander Games