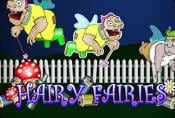 Online slot machine Hairy Fairy from Microgaming is a lottery. The sense of humour and fantasy of developers do not have any limits. The playing field consists of 12 positions, each of them is presented as 40 years old man with fairy wings, on the background of the inner yard with a great number of empty bottles of alcohol.
In this slot game, there are no special symbols, but there are multipliers of the general bet. There is nothing to say about risk game and other additional modes because there are no such features on this slot machine. It has just three buttons and 12 options. Nevertheless, this fairy game can be interesting for those, who don't like the wide range of additional features and bonuses.
Look for other slots of this kind and their management in Scratch Cards section.
Hairy Fairies online slot with free bonus
How to play on Hairy Fairies
The aim of the game is simple enough – to get a prize you have just to gather three identical multipliers of the bet, which are opened by pressing on one of the positions on playing field.
The interface consists of three keys without settings. The general bet is determined by +/ – regulators of Stake parameter, presented in the form of a beer can, as well as all other buttons in this slot play. The general stake is set in a range from 0,5 to 10 credits of gaming currency. In such way player can adjust the rate according to his wishes.
New Card button launches the process of this funny play with a previously determined parameter of the general bet. Among 12 symbols gambler is to select 9 positions, which means that on one card there will be left three uninvolved positions. Each of symbols opens particular multiplier.
Reveal All key opens all 9 characters, whose meaning will be shown on the tree that serves as table of meanings. After opening all signs of current card, playing process automatically stops, and if you win all the credits will go to balance.
In the lower left corner of the interface, there is an informational window which shows the current player's balance in credits. In the demo version of the game, the user has 2000 demo credits.
An indicator of prizes Win is also represented in shape of a crumpled beer can and represents winning for the current round. Multipliers of this casino slot video are in the range from x2 to x250, they multiply general bet and bring profit when three identical numbers land on the reels. Winning combinations frequently fall out with minimum multipliers x2 and x3, and multipliers with higher nominal often don`t reach the desirable number. Nevertheless, algorithm of this machine is based on the principle of random number generator. In such way all combinations that fall out on the playing field are random, and results are honest.
Do you prefer playing on your gadget? Find how to do this in Slots for Android section and enjoy it.
Additional settings
This game can "boast" with the existence of two additional settings:
Speaker sign allows turning off sound effects of the slot;
"?" button opens a menu of technical reference with main rules of the game and examples of gameplay.
Also, in right upper corner of the game`s interface player will see the indicator of current time.
Conclusions
This online casino lottery, in spite of its unusual plot, can bring reward up to 2500 credits for one card. You can also win real money if you will try the game on the online casino site [[$whereToPlayLinks]] and play the full version.
Check your luck with video slot Hairy Fairies, and this lottery will bring you not only good mood but also good reward in the form of high multipliers.
More games from Microgaming