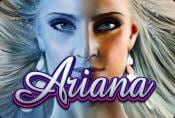 The Ariana video slot from Microgaming is the representative of a "sea" collection of modern slots. The novel device differs in a non-standard operating of ordinary symbols and is endowed with several bonus pictures.
Ariana video slot for free
The history and market entry
The Ariana video slot appeared in the market not so long ago. Microgaming company, which is one of the acknowledged leaders in the development of game devices and platforms for gambling institutions in the network, introduced the original slot at the beginning of May 2015. Meanwhile, the announcements of the new product of Microgaming had appeared on pages of thematic portals considerably earlier in the middle of March.
In addition, programmers provided to admirers of gambling six worthy innovations at once:
updated versions of the Cool Wolf and Break Away slots. These slots, created in 2014, possess a similar plot and are equipped with five reels, 243 payment lines, and special symbols. In May 2015 the company has pleased players with mobile versions of both games.
the mobile version of the twenty-line slot Liquid Gold;
The New Big Chef fifteen-line video slot devoted to culinary. The main symbols of the automatic machine are played by the chef and various products. Bonus symbols: Wild and Scatter are designed in a classical manner.
twenty-five-line Penguin Splash and River of Riches slots with the simplest rules and the minimum quantity of bonus symbols in an interesting decoration.
The Ariana casino machine stood out with non-standard graphic design and additional functions. As a result, it deserved the status of the "pearl" of a new collection.
The unique promotions of the Ariana slot
The official release of the Ariana slot didn't remain unnoticed. Moreover, Microgaming started a special promotion campaign in honour of the game launch. By the terms, each 25 euros for bets brought two lottery tickets for participation in a draw of a one-week-tour to Dubai for two persons.
At the same time, the budget of six thousand euros was allocated to finance the weekend. This amount included:
two tickets from London to Dubai and back;
deluxe room in Atlantis Palm hotel for seven days;
two spa packages worth six hundred euros;
1000 euros pocket money for each participant of the trip.
Some casinos added a magnificent prize with own conditions. In particular, NextCasino offered a 1000 euros bonus with no obligations to play for this money.
In general, on the terms of action, three Dubai tour packages and two additional prizes of 500 euros on account were played.
Design of the gaming machine Ariana
Thus, the popularity of the slot has reached amazing heights since the first days of its emergence in casinos. The plot is devoted to the well-known fantastic inhabitant of the underwater world - mermaid under the name Ariana. All pictures, except card symbols, are also devoted to sea subject. Regardless of the fact that it is difficult to call a plot of the game exactly original but, nevertheless, the slot instantly has drawn the attention of players. A game is characterized by an excellent graphical component and an excellent return to player percentage, that attracts experienced players, and, at the same time, by an easy-to-use interface, that perfectly suits newbies in the world of gambling.
Structurally, the gaming machine is executed in the form of five reels with twenty-five lines. All lines are activated automatically and their quantity is unchangeable.
The game interface of the slot meets players with the image of the underwater world of corals. Colour scale is sustained in quiet bluish tones. Excellent living graphics supplements the design of the device.
At the same time, the design is distinguished by a certain laconicism. Thanks to the lack of a large number of welcome windows, the automatic machine loads as fast as possible. Rotations proceed smoothly and without any delays.
Unique ability of the main pictographs
The main feature of the Ariana gaming machine is a non-standard design and, above all, the algorithm of forming advantageous combinations by the main pictograms: mermaid as the main character of a game, chests, sea-dragon, and reefs.
The main emblems of the game are endowed with a unique ability. They are Expanding symbols. In other words, with the emergence on the first reel of:
a "threefold" symbol with reef, sea-dragon or chest and single similar signs on the second, third wheel, symbols "expand" filling all cells on the first three reels;
a "threefold" symbol with Ariana and her single portraits on the first four reels, these images also occupy all cells on wheels.
The Wild symbol is the game logo, which also gained the ability of "expanding" under conditions mentioned above. It can take part in both cases of forming combinations.
The rest of ordinary pictures are playing card symbols: A – an ace, K - a king, Q - a queen, J – a jack, 10 – a ten. Depending on the value and quantity of them in a sequence, they can bring 15 – 750 virtual coins.
Special signs, bonus games
The number of bonus games isn't too high. Traditionally, there are two special symbols in the game:
Wild symbol – designed as a game logo, it replaces simple pictures when those are forming advantageous combinations. There are no unique features except for the ability "to expand", but only in case of the sequence with the participation of a "threefold" symbol on the first reel.
Scatter – designed as a starfish. In a case of emergence at least threefold starfish on reels, a player earns financial reward and a prize-winning round of fifteen free rotations. An important fact is the possibility of prolongation of a free spin session in case of repeated emergence of three Scatters on the playfield. Thus, in a case of a certain luck, a player can receive a very significant amount of free rotations which is essential to refill balance.
Functionalities of the control panel
The device control panel, traditionally for Microgaming products, runs on the Quickfire platform and is very simple. In fact, there are only three function keys on the control panel of the device intended for adjustment of parameters and start of the game:
"Bet" - the second section on the left allows to establish a bet size per spin;
"Spins" - the very right key starts a single rotation;
"Auto game" - a button to the left of "spin" that activates an option of continuous rotations. When pressing the button, a player can choose a desirable number of auto spins starting from 10. "Stop" terminates this mode.
"Credits" and "win" perform an informative function by displaying current financial performance.
Furthermore, there is an option to call for additional "sections":
the small label in the bottom right corner will allow getting access to the statistical data concerning the quantity of spins in a session, indicators of maximum prizes, technical settings of the game: speed of rotations, quality of graphics and switching on/off a musical background.
the tab in the right upper corner with an "off" writing shows a table of payments. Here it is possible to study in detail exact coefficients of payments for each picture. An interesting fact is that it displays not a "hypothetical" quantity of coins per combination but the exact calculation of a payment amount for each specified bet parameter.
In general, the Ariana allows placing bets from $0,01 to $5 per line and $0,25-125 per spin, respectively. The size of multiplier varies from x3 to x250, the maximum prize can reach $12500.
Mobile version
The Ariana exists not only in the browser version. Considering the popularity of modern gadgets, specialists of Microgaming created multiple versions of the slot. In addition to flash and PC versions, developers made a mobile version of the game for Android and iOS platforms.
Distinctive features of slots of these versions are the reduced quantity of keys on a control panel and a slightly simplified interface. The algorithm of the game process is completely kept. Moreover, the animation of the device on mobile platforms has as the high quality as a browser game.
 If you prefer playing on mobile devices, you can choose a certain device and a game for it at the Mobile Slots page.
Testing of the device
From the first days, Ariana drew a close attention. Not only players but also special thematic resources devoted to gambling and innovations of the famous manufacturers became interested in the original slot. Representatives of such portals regularly do their own testing of new devices and collect data provided by experienced gamers on the relevant forums.
According to feedbacks of "testers", Ariana slot is a worthy competitor to other "marine" devices. It perfectly reacts to medium-sized bets, gives out frequent "stacked" symbols and brings pretty generous payments. Scatter combinations that run a round of free spins are also quite often. Payments, in a case of the minimum prize-winning round, aren't too big. But it happens rarely. As a rule, Scatters drop out repeatedly during free spins, extending the round for additional fifteen or even thirty rotations.
In general, "analysts" estimate average "return to player ratio" in 96,5-97% and refer it to the category of devices with low variance, which means frequent but small payments. However, the producer – Microgaming company – didn't voice precise indicators.
The strategies of playing
When planning the strategy gamers should rely on their own analysis based on results of playing demo version and consider recommendations of other players. Relying on the opinion that Ariana belongs to the group of devices with low variance, we can offer several pieces of advice on the tactics of the game:
Martingale tactics is the most often used strategy in a roulette. Nevertheless, it can work also with gaming machines. The basic idea is doubling the bet after each empty spin. This strategy relies on a theory, that dead spins can't proceed infinitely and a player eventually will receive a prize and refund all invested funds. An important point here is an accurate computation of balance and bet, otherwise, you banally may not have enough money for a victory.
"3 stars" strategy is known as one of the simplest and most interesting systems of making bets. A player specifies a certain number of rotations for a specific cost. For example, 10 spins – 1 dollar, 10 spins – 2 dollars, 10 spins – 3 dollars and so on. In a case of winning it is necessary to return to the basic setup.
"Umbrella" strategy is used by players both in online and in terrestrial casinos. The principle of this technique is based on progressive increasing/decreasing bets in a certain order. There are three options available: conservative, moderate, aggressive. A good illustration for a "calm" game: 5 spins – 1 dollar, 4/2, 3/3, 4/2, 5/1 and upside-down. In a case of a more dynamic game, the number of spins is reduced with the bet size increased, so, next progression would be 1-2-2-3-3-5-5-5-5-3-3-2-2-1.
Admirers of "high" stakes should pay attention to strategy "One game". It lies in playing the game at the greatest level.
Any of the provided systems is not bad and is suitable for a game on low variance slot Ariana. Considering sufficient frequency of small but stable payments, similar techniques allow maintaining your balance before getting a really big prize.
Determining limits of the game
However, it is important to remember that no strategy grants a 100% guaranteed victory. All gaming machines including Ariana operate on the basis of a random number generator. As a result, there is always a risk of loss. In order to avoid excessive losses and disappointments, players should determine for themselves several simple criteria allowing to stop the game in time:
time frames;
number of spins;
targeted reward;
highest possible loss.
In a case of exceeding any of these limits, it is necessary to stop playing previously having been made a request for payment in case of getting a prize from Ariana gaming machine.
At the same time, it is important to consider a number of additional factors:
the ratio of balance and size of a bet. In a case of a small deposit, you shouldn't be carried away by large investments. Certainly, minimal bets are hardly capable of bringing solid prizes at short distances. But they will allow to make a bigger quantity of spins and to wait for really valuable victory.
the ratio of a bet and a winning. Small payments by no means can be referred to the category of "prizes" if their value is less than the size of the bet. Really worthwhile victories are those that are brought by sequences of the most valuable pictograms or received in rounds of free rotations and bonus games.
"probability theory". If the device has brought you three large payments in a raw you hardly need to expect good rewards in the near future. In this case, skilled players recommend to finish a game or to go to another slot.
Participation in tournaments
Tournaments should be noted as an additional strategic decision allowing to win a pleasant prize. Ariana slot is pretty popular, thereby it often becomes a "participant" of such events. By making bets in a favourite game, a player automatically gets a chance of a victory in a tournament and, as a result, receiving an extra fee. Time and conditions of holding tournament competitions are regularly published on the corresponding pages of the casino websites.
Main technical indicators of the game
Summing up the provided information we can highlight several technical characteristics of the device:
Reels: 5
Lines: 25
Bet per line: $ 0,01-5
Bet range: $ 0,25-125
Max winning: $ 12500
Wild symbol: check
Scatter symbol: check
Free spins: check
Additional functions: check
Bonus game: null
Risk game: null
RTP: 96,2-97%
You can find the official statistics of the current indicators of Ariana slot on a web page of the casino. For the last month, results of games are the following:
Popularity/players in the last 30 days: 2781
Average bet: $ 3
Maximum payment: $ 4000
Days since the last biggest win: 76
Skilled players suppose, that taking into account such data increases the probability of receiving a reward. We recommend to test capabilities of the game machine Ariana and to make the analysis of all indicators in a risk-free demo mode.
Discover more about this video slot in [[$whereToPlayLinks]] online casino. Here you may play not only for free but also for real money.
Game Specs
Scatter Symbol

Yes

Freespins

Yes (15)
More games from Microgaming