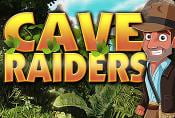 Online video slot machine Cave Raiders is a new Nektan game for all adventure fans. It was created only for mobile gadgets, such as phones, tablets, smart watches. Cave Raiders can be played both for money and for free. The main theme is adventures. The background of this video slot machine is busy with an exotic rainforest location with rocks and jungle.
The video slot by Nektan adds 5 reel and 25 paylines. The Cave Raiders jackpot is 1000 credits. On the one hand there are some bonus free spins and wild symbols, but on the other hand there are no any gamble and multiplier. The main reason – is hand-held platforms and small screen devices. Nevertheless the graphics is great. The game offers a player-friendly menu with only 3 pins. 
Cave Raiders online slot with free bonus
How to play in Cave Raiders by Nektan
Before to start playing slots games for free you need to chose bets and paylines. You may chose bet from 0.01 to 1. The paylines may be chosen from 1 to 25. You may find a setting menu, taping "Stakes and Lines".
Menu in slot machines games online free play
Nektan usually makes video slots with the same interface. Here you may find four push buttons on the gameplay screen:
the first one is "Stakes and Lines". It opens a paylines box. Here you can change the paylines and the bets for each of them;
"Spin" button has a round index. It controls the spinning in the video slot. It may be used both in the main game and in the bonus rounds;
The "Menu" button offers some information about video slot symbols, free spins, bonus rounds, winning combs, paylines awards and ways of the payback. During all the game you may stop to spin and come to the setting menu to refresh you knowledge about the game features.
Symbols in Cave Raiders video slot
Cave Raiders by Nektam has a really interesting pictures system. There are major symbols and minor icons in the best free slot machines to play:
parasol aircraft in a vintage style will give you a win from 70 to 250 coins. The winning combs are 3, 4, 5 aircraft pictures;
pretty girl icon can pick up from 80 to 400 coins. The win combinations of symbols are the same. The comb of 3 pretty girl icons gets 80 coins, the comb of 4 pretty girl icons wins 200 coins, finally a comb of 4 pretty girl icons brings you 400 coins;
Indiana Jones with his fedora hat picture brings you from 90 to 500 coins in free slots online. The combination of 3 Indiana Jones pics will pick up 90 coins, a comb of 4 Indiana Jones pictures – 250 coins, a comb of 5 Indiana Jones symbols – 500 coins;
The combs of skull icons of slot will give you from 50 to 150 coins;
A golden figurine is a wild icon. It also may give you from 100 to 1000 coins. The 1000 coins win is a jackpot in this video slot;
the other pictures are 10, J, Q, K, and A. All of them can get from 10 to 125 coins.
The comb of three 10 icons will give 10 coins, of four 10 icons – 40, of five 10 icons – 80 coins. The comb of three J will give 10 coins, of four J icons – 40, of five J – 80 coins. The comb of three Q will give 15 coins, of four Q – 50, of five Q – 100 coins. The comb of three K will give 15 coins, of four K – 50, of five K – 100 coins. The comb of three A will give 25 coins, of four A – 80, of five A – 125 coins. 
Special features in online slots mobile Cave Raiders
A golden figurine is a wild icon, which can replace all other symbols except a scatter symbol. The last one is a pic with the word "Spins". It can activate the free spin bonus.
The Cave Raiders attracts users attention with:
stylised cartoon symbols;
the game features;
nice soundtrack.
The main hero is Indiana Jones. Remember movie franchise about his travels? Join Indiana Jones in treasurer searchings. This video slot will take you from everyday life to jungle, where you have unforgeable adventurers in Indiana Jones company.