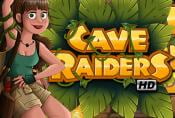 Online slot Cave Raiders HD is a new game by Nektan software. There are two versions of this video slot in the portfolio of Nektan company.The regular one is Cave Raiders and the one with high resolution graphics – Cave Raiders HD. As both versions are pretty similar in gameplay, but the quality design is not the same. 
 The video slot was created for mobile gadgets. It can be played both for money and for free. The main theme is adventures. Cave Raiders HD  has 5 icons at the main screen. You may play by one-twenty five pay lines. For each of them the equal bets may be changed. The player may stake from 0.01 to1 credit per each of the lines. So the range of bets per a spin varies from 0.1 to 25 credits.  
Usually Nektan doesn't overload its online slots for fun with a big number of features. Developers have stopped on the basic icons, some general rules, 2 special symbols and a free spins bonus.
Cave Raiders HD online slot with free bonus
How to play in Cave Raiders HD game online
The basic pictures form win combs at the active lines. Here it has to be situated n starting from the first left reel. User need to get such a comb, so he hits 3, 4 or 5 symbols. The longest combs at each of the lines are taken in account.
There are 2 values which influent on the payoff. The first one is combination index. It varies from x10 to x1000. The second one is the bet per line. Its placed by the user in the beginning of the game.
Free online slots machine game Cave Raiders HD offers 25 paylines. It may be chosen from 1 to 25 in the setting menu, taping "Stakes and Lines".
The menu in Cave Raiders HD
Nektan company creates video slots machines with the equal interface. There are 4 keys on the screen:
"Stakes and Lines" offers the paylines box, where user changes a number of paylines and the bets value for each of them;
"Spin" pin with a round index controls the spin process in Cave Raiders HD;
The "Menu" key opens a lot of information about symbols, free spins bonus,  combs, paylines awards and payback. 
 Symbols in Cave Raiders HD video slot
The main theme of the video slot is treasure searchers. So all symbols here are made in adventure style.
a cobra will give you a win from 70 to 250 credits. The win combinations are 3, 4, 5 cobra pictures;
a golden statue icon can pick up from 50 to 150 coins. The win combinations are the same on slots lines: the comb of 3 golden statue icons gets 50 coins, the comb of 4 golden statue wins 100 coins, finally a comb of 4 golden statue icons brings you 150 coins;
young girl picture brings you from 80 to 400 coins. The combination of 3 young girl pics will pick up 80 coins, a comb of 4 young girl pictures – 200 coins, a comb of 5 young girl symbols – 400 coins;
old man picture can win from 90 to 500 coins. The comb of 4 old man icons brings 90 icons, the comb of 3 old man – 250 coins, the comb of 5 old man symbols – 500 coins;
a logo of «Cave Raiders» may win from 100 to 1000 coins. The 1000 coins you can give getting a comb of 5 logos, 500 coins –  getting a comb of 4 logos. 100 coins - getting a comb of 5 logos;
the other pictures are 10, J, Q, K, and A. All of them can get from 10 to 125 coins.
"10" will give from 10 to 80 coins. J can win you from 10 to 80 coins. Q may get from 15 to 100 coins. K brings from 15 to 100 coins. A can pick up from 25 to 125 coins. 
Special features in online slots mobile Cave Raiders HD
A skull and crossed spears icon is a Wild symbol. It replaces missed pictures in combs (except of Scatter icon) when it is necessary. But it can't form any paid combs on its own.
The Scatter icon is an airplane. It can trigger free spins bonus game, which require at least three such symbols to drop anywhere at the screen in the same time.
Bonus game and Jackpots in Cave Raiders HD
There are only free spin as slots free online bonus here. Cave Raiders HD has no progressive jackpot.