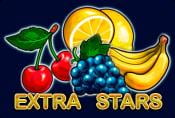 The online slot game Extra Star from EGT developer is played on five reels and is devoted to the wonderful harvest of fruit. But what are the stars doing here? Let's figure it out! If you want to find out more 5 reels slots visit the corresponding page of our site.
Extra Star slot game online
About the game
Fruit machine games for fun Extra Stars are more suitable for beginners of online gambling. It is so successful thanks to a variety of winning combinations that it will fascinate even experienced player.
It is not difficult to understand how it operates. There is a row of buttons in the lower part of the screen. Small coloured buttons on the left help you to orient and set automatic spins.
Then there is a series of buttons with credit and numbers signs. The credit button helps to set the desired credit, that is a certain amount of money the casino lends you. When it is spent, the game will be over. In the game for money, the credit is the amount of money that you put on the line.
Buttons with numbers indicate rates. A total number of them is five: 10; 20; 50; 100; 200. The higher the rate is the more winning amount you get.
Lucky combinations
Free slot machine games with free spins and bonus can be winning ones for everyone, and even not lucky player will not stay without profit. But lucky player receives lots of coins because jackpots are not rare in the game. If you think you're ready to play on real money you'll be able to find Extra Stars slot machine in [[$whereToPlayLinks]] casinos.
The reels have seven kinds of fruit. There are next winning combinations (with a minimum rate). Plum or mandarin:
3 in a row – 10 coins;
4 in a row – 30 coins;
5 in a row – 150 coins.
Cherry or lemon:
3 fruits bring 10 coins;
4 fruits – 20 coins;
5 fruits – 100 coins.
A slice of watermelon or a bunch of grapes are more profitable:
3 in a row give you 20 coins;
4 – 50 coins;
5 – 200 coins.
Banana is the most "delicious" fruit:
3 bunches yield 50 coins;
4 bunches – 200 coins;
5 bunches – 500 coins.
Likewise, there is such a winning combination as Sevens:
3 figures bring you 100 coins;
4 figures – 500 coins;
5 figures – 1,000 coins.
Can you imagine, how big jackpot you will hit if you set maximum bets?
There is wild symbol in the casino slot machines online – a star. If the star and three of listed above symbols fall out, the prize is doubled; if two stars land – the winning will be tripled. When three stars fall out, the player gets a free spin.
If three stars and three any identical symbols fall out, you hit the jackpot. Be risky with the slot and bet on the maximum. The fortune likes adventurous people.
How to win
The luckiest bet is 50. Press it boldly and you will get maximum adrenaline and pleasure from the result of the game. Any game has unprofitable spins, but Extra Stars casino slot machines for fun has so few ones, that you will not even notice them. If you're interested in the question How to win on slot machine visit the corresponding page of our site.
Tangerines and other less valuable symbols fall out often. But be patient! The star is not as rare, as it seems. The star and fruit appear on the reels every three-four spins. When you bet 50 the credit sum is not decreased, but it is increased in a lot of times.
A little bit of courage and a pinch of luck is enough to win at the slot. The most hazardous players can increase the rates in 100 or 200 times. In such game jackpots will bring a great number of prizes!
Do you want to catch the luck? To rise on the peak of the wave with a slot Extra Stars is a piece of cake! A respectable sum, which you get in the process, is a reward for the courage.