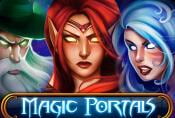 Portal is the special thing particular to lots of games, it guides player through the story to the mysterious award.  In slot machine online Magic Portal by NetEnt company portals themselves play the role of occasional and interesting multiplier of payment. Especially when player is lucky enough to collect two identical symbols. You can read below the information how to control portals and get maximum prize.
Magic Portals slot machine online
Interface and management of the game
The reeland of Magic Portals consists of five drums, three rows of symbols and 25 paylines. On the first and fifth drums in the second row there are magical portals, which turn ordinary symbols into wild ones and let you win free spins on video slot online. Pay lines are fixed in online slots gaming, so player has just to set the rate level and value of coin.
There are such control buttons on game panel:
Level – the rate level on pay lines, they vary from 1 to 10;
Autoplay – sets automatic spins;
Play – starts single spin;
Max Bet – sets the maximum rate on pay line and starts spin;
Coin Value – determines value of one game coin.
If you press on "Info" button you'll be able to get acquainted with description of symbols, which appear on reeland of Magic Portals, prize lines and additional possibilities. Besides there are windows with information about bet on the spin, the amount of coins, prizes for the last spin on the control panel.
At the bottom of the page you can see menu with game settings:
Quick spin – reduces time of spins;
Intro screen – open or hide downloading promo;
Audio – settings of audio effects;
Graphics quality – setting of graphics. The reduction of graphics and visual effects quality will increase the slots' speed;
Keyboard shortcuts – lets to start spin after pressing "Space" button;
Sound miser – settings of the sounds volume;
Rules of the game – game's description;
Auto – special settings for Autoplay option.
Calculation of advantageous combinations on prize slots lines is made from left to right. When two identical symbols drop out, "Magic Portals Wild Transformation" and "Free Spins" modes activate in portal slots.
Symbols and their specifics
There are 11 symbols in this game: 6 with the minimum coefficient of payments, 3 with high coefficient of payments, wild symbol and "Free Spins" symbol. The minimum number of symbols which form advantageous combination is 3. However, the combination of three and more valuable symbols itself won't give you big prize on the minimum rate level on the line. For five expensive symbols with "Red maiden" on the first rate level player gets only 500 coins. If you collect two combinations of five symbols in slots online game, all other symbols will transform into wild and will respectively create combinations. That will make your prize bigger.
Wild symbol acts like "accumulative" one, only when two symbols of one range fall into portals. "Free Spins" symbol also gives prizes only when it falls to the portal. That is how the main source of high payments here isn't only in combinations of symbols, but also in their use together with portals.
If you want to play this game with more features so visit [[$whereToPlayLinks]] casinos and enjoy the full mode.
Additional possibilities
Portals provide players with additional opportunity to get higher prize, especially during free spin. Portals initially are located only on the 1st and 5th drums, but in the course of Free Spins all three slots on the fifth drum become portals. Symbols of the one range turn into wild slots symbols and replace any symbol in winning combination, the only exception is "Free Spins" symbol.
When you collect 2 "Free Spins" symbols in portals, you get 10 spins at casino's cost; you may collect them during the game, if you have this combination again. The payment for prizes is made according to the table of payments.
 If you enjoy free spins, we have a list of slots with free spins in slots just for you.
Casinos with Magic Portals