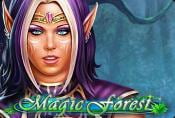 Magic Forest online slots for fun are issued by Playson software. It has an unusual magic theme, great design which is very pleasant-to-eye and offers generous cash prize – the luckiest of players are able to win 900,000 coins of jackpot, and maybe you will become one of them! But it is poor when it comes to various bonus rounds and features – a sophisticated player may find this game a bit boring. The only option to cheer user up, which is represented here is the opportunity to win free spins round and gamble with your winnings.
Magic Forest Slot Machine 2016 Without Registration
Instruction for players
Beautifully designed gameplay is among the advantages of Magic Forest slot. It is located under the main field with reels and paying lines. The following hot keys are included to the control panel of online slots games for fun (we are going to describe them from the left to the right):
Paytable button looks like a pot of gold – and it's not incidentally. This key opens the section which contains the information concerning possible payments, bonus symbols and combinations which can be formed on the reels. It also shows RTP index (possible return to player) which in this game equals to 96,03%.
Lines allows to adjust the proper number of lines included to the playing process. Arrows on the left and right sides of it increase or decrease this amount. Maximum number here is twenty, but it is possible to select any number below – if you love to, you may choose gambling with only one paying line.
Autoplay is a button which is used to start the round of automatic spins. By means of keys with arrows you can choose 5, 10, 25, 50, 100, 250, 500 or 999 of them. Having selected the number press Autoplay key itself. In the best free slots it is possible to stop it at any time by means of another click on the same button.
Bet is set for one line, so that a final size of it is calculated by multiplying this quantity on the amount of paying lines. The stake for a single one starts from 0,10 coins and reaches 1,00.
Max Bet is used to adjust the lines and bets for them at the highest possible amounts instantly, so that the size of stake per spin you are going to gamble with will be equal 20 coins.
Spin begins a single playing round. Both Max Bet and Spin are designed to look like mushrooms – the first one is colored blue, and the second is red.
Above the control panel of Magic Forest free slots online you will see small windows – Credits, Total Bet and Win. Credits shows the current balance of a player, Total Bet reflects the final stake (bet per line multiplied by their quantity) and, finally, Win contains the amount of your last winning.
In the upper right functional buttons of the slot can be found. By clicking on Speaker you turn on and off sound effects. Four arrows allow to launch the game full-screen, and a red Cross makes it possible to exit the game.
One more unique feature which is peculiar not only for this slot, but also for all casino slot machine games for free by Playson is the possibility to gamble with wins in case a beneficial sequence occurs. Then the Spin buttons turns into Gamble one, and you get an absolutely unique opportunity to increase your gains by doubling them. But don't forget that the fortune may not be on your side today – in this case the payments you received in the current round disappear and you get nothing.
We have already mentioned, that the only bonus feature in these slot machines on line is a round of free spins. In order to launch it, you should land three special images called Scatters on one of the paying lines. Scatter symbol in Magic Forest slot is a leprechaun – collect them and get 15 free playing rounds. There is also a Wild icon which has beautiful elf depicted on it. It offers the most lucrative rewards (from 5 to 5000 coins) and at the same time replaces any icon except for Scatter. Beneficial sequences on reels start from the utmost left and extend to the right corner of playing field.
How to cheat a slot machine
Cheating is bad – we all know that well. But each gambler who has ever tried playing slot machine at casino even once asked himself whether it is possible to trick it. Are there any algorithms which may be hacked? Let's find it out in this abstract.
You've probably heard about various ridiculous methods of cheating, and some of them seem to be really weird. Players are trying to apply here strategies used in table games, count stakes, miss the rounds...but finally nothing of that works. Why? Well, first of all because the users who invented all that complicated ways forgot about something really important: the principle the work of every slot machine is based on. All the sequences which appear on reels are generated randomly – there is no algorithm slot machines online follow. So, predictions concerning which combination appears next are useless. Only your intuition and some inner feelings can help.
The only thing which is within the competence of every gambler is to play reasonably. Pay the most careful attention at the process of placing bets – keep in mind how much money it is possible for you to spend and stick to this figure. Obstinacy is not a good quality for a successful gambler either. When you see that today the loss is followed by loss, maybe it would be better to try gambling this game another day, or choose another slot. But not follow strategies concerning playing online slots games for free with bonus rounds in any case, they can be found in abundance on different websites. They will not work, and you will spend your time and money in vain.
Secrets of slots
Even the most experienced players may be tricked by unverified facts which are called the secrets of slot machines. They apply these methods accepting them as a true and believing in their effectiveness which is not supported by facts. Players perform various manipulations which in their opinion will lead them to considerable wins. But is it possible?
The most common mistake is the opinion that while creating each one of online slots with bonus the programmers committed an error while developing the software. And owing to this error it becomes possible to hack the machine and start winning at once. Surely, there may be bugs in any casino game, but the prizes you get because of them will not be paid – online casinos administration carefully looks after the security of their websites. So, this can't be called a secret. In fact, slot machines do not have them – they are just mechanisms which work on the principle of randomness. When you play slots online free or gamble with real money stakes, try to place the bets reasonably, control wins and losses, build your own playing strategy – these are some real methods which can help you in obtaining the dream jackpot.
Myths about Magic Forest slot
People love mysteries – it's a well-known fact. And they are trying to create an aura of mysticism around everything they interact with. Slot machines are not an exception, especially such popular ones as Magic Forest. With rapid growth of the amount of online versions of free slots video machines the legends connected with their land-based variants swayed into this field. For example, this is the case of common superstition concerning "hot" and "cold" machines. These two categories in players' opinion differ according to the following principle – the ones which are considered to be "hot" pay more, if a player before you invested more money in it. Otherwise, it is called a "cold" machine. But how to find out how much money did previous gambler spend on online version of the game? And how are his wins and losses connected with yours? There are more questions than answers, so this version seems to be lacking common sense.
Some of users who enjoy free slots to play online state that each combination appears on reels through a certain period of time. They even offer to calculate these cycles with help of some ridiculous formulas, based on the theory of probability. But as you've already learnt from our review, it is impossible to predict the combination which lands on the reels, because they are formed randomly – there are no principles and algorithms.
Finally, we want to highlight the usage of various playing methods. Some of them were already mentioned in previous sections, where we proved why they don't work.
History of this casino game
Magic Forest belongs to free slots games for pc and mobiles of Playson production. This company is relatively new one on gambling market, that is why their casino games (both those available in online casinos and land-based ones) differ with their great high-quality design and numerous modern playing techniques. The slot machine we observe in this review is one of the most popular ones, offering to players five reels and twenty paying lines combined with great magic-themed design. Also, its high theoretical return to player (more than 96%) makes Magic Forest one of the most popular slot machines.
While creating this free slot machine in casino, the producers also took into account the wishes of such category of their audience as users of mobile gadgets. That is why they issued a great version of Magic Forest slot perfectly compatible with your devices – the only demand is that their operating system must be Android or iOS. You can download a special client or launch the game right in the window or in your mobile browser.
Theme of slot machine
Both symbols and control panel match to the general picture – let's see what icons may be encountered on the reels of this casino game:
The icons of the lowest level, as in lots of other casino games, consist of card pictures. You will find their values represented in range from 9 up to A. For collecting their sequences, you will be awarded with prizes varying from 2 up to 150 coins. In order the sequence of symbols in slot machines to play for fun could be considered as a beneficial one, you can collect only two of them.
Next go the symbols of luck – a horseshoe and a clover. They have equal values from 15 to 250 coins, depending on the size of a combination. The smallest sequence should contain at least three such pictures.
A golden coin is worth more – three of them pay 20 coins, while maximum possible combo containing five images will bring you generous 500 coins.
Finally, the most paying icons are a bird and the unicorn. It is enough to collect only two of them in order to be paid. But the reward will be small – in this case it consists of only 2 coins. But if five pictures land on a single paying line of free video slot machine games with bonus rounds, you will get incredible prize containing 1000 coins. More payments are given only to players which see the maximum combination consisting of Wild symbols. Combos of Scatters are paid in unusual way – you get a current bet amount multiplied several times.
From the very beginning of gambling these slot machines to play online you will feel involved into some mysterious action. In this slot, you are offered to explore a magic forest – and a corresponding atmosphere is perfectly represented owing to peculiar features of the design.