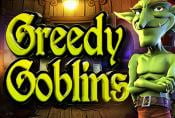 Casino slot machine Greedy Goblins by BetSoft company with the playful goblins that inhabit the reel's boxes, thanks to the 3D effects, will make your gameplay very entertaining. These characters are able to perform various tricks during a spin.
Greedy Goblins slot machine
Game features
To collect on the active lines (up to 30) winning combination, it is necessary to click on Spin or Max Bet Spin (rotations with the maximum bet settings). After one scroll you may collect a sequence with a funny goblin in a red cap, green goblin, house with mushroom cap, crown, goblet, gem, the moon, wanted poster.
New casino slot machine Greedy Goblins also has special characters - Wild is the wooden house, «Welcome to Flania» pic switches the free-spins, also look for the gold coin and a magical book.
Win for each combination can be increased in game for double - the tour with a coin.
How to win Greedy Goblins (cheats and tricks)
In any slot machine, your chances of winning pivot on RTP, the amount you have already spent and the amount you have won during the game. Besides, you should remember that, usually, a big win is 1,000 to 3,000 times the bet, so it makes no sense playing with a bet of 1 cent if you want to win more than USD 10–30.
So, in the following situations you will be better off doing as suggested:
Main rule:
Your prize per spin is 100 times the bet or more
Scatter Symbol
You get Scatters twice in ten spins
Active bonus
You get active bonuses twice in ten spins
The active bonus wins you 50 times the bet or more
Automatic bonus
You get automatic bonuses twice in ten spins
The automatic bonus wins you 50 times the bet or more
Risk game
Your current win is exactly half of what you need to get to stop the game — Keep on playing