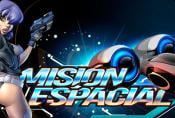 A game is Mision Espacial slot machine. This video slot will be viewed by sci-fi fans. Do you like space ships, aliens and Hyperdrive theory? This slot is for you!
Thе main theme of MGA slot machine is space mission. If you are an ambitious player who likes to risk big to win big – let's play. The design is in a little bit retro style.
By the way, this company always creates video slots in its own manner. For example, the developer makes English and Spanish versions of every slot machine.But in an English version titles and sounds are always with little snippets of Spanish. It is some like kind of their signature.
The other markable feature of their video slots is a layout. It looks like a real slot machine from your local casino. The panel was made in a spaceship style. Traditionally designed buttons seem to be real.
The background of a screen looks like a spaceship cabin. On the screen there are some prompts.
Mision Espacial slot machine review
How to play in this free slots no reg
Mision Espacial video slot has different buttons on the screen:
"Collect" button helps to collect the winning combs;
a blue button is a magic wand for every beginner. It helps the user to choose a number of spins. Besides this button opens the special menu. Here the language can be changed, you may read about levels of the main and bonus games. And of course here you may turn on/off sounds and "autorisk" regime;
"Auto" usually spins the reels. It stops when your balance is empty;
Three identical yellow buttons are called "nudges". There is an upper function. Reels are moved forward one place seeking a comb to win. The number of them may vary from one to four;
"game change" help to end bonus game;
"play" button is the main in the panel;
the user may choose the bet with the "bet" button.
On the top of a screen there is a message box. Here are some prompts.
Bonus in free videos slot machine games Mision Espacial
Mision Espacial video slot offers 2 kind of a game:
in the major game the user changes to play with "collect" button or "play" button. The last one is a risk game, where you may win some bonuses;
to get an opportunity to play the upper game you must achieve some bonuses and your balance should be full of money. In this game you also choose between "play" or "collect" buttons.
Symbols in Mision Espacial
The video slot has traditional icons and symbols.
the major pictures are oldstyled. Here you can see a lot of lemons, gems, bells, oranges, diamonds and strawberries;
special pictures are the girl, galaxies and asteroids.
Mini games in Mision Espacial
There are 4 mini bonus games in Mision Espacial video slot. The user may trigger them randomly:
to get the door bonus you should get 3 doors in the main game;
to open the asteroid bonus the user may with 3 asteroids from the upper game;
3 spacecrafts from the upper game trigger the planets mini bonus;
the user will get the access to the roulette mini bonus getting a collection of 3 galaxies from upper game.
If you like bonus games, then we highly recommend you to check out our list of slots with bonus games feature.
The winning combs in free slot machines online
The winning combs usually consist of three equal icons. The comb with the red, blue and green diamonds can trigger the lower game. Here you may get a small prize. The oranges, plums, lemons and strawberries comb triggers rewards between 2 and 12 credits. It depends on the current bet levels. Bell combination goes up to 15 credits and the pure diamond comb is the most valuable.