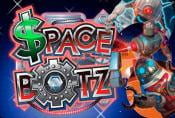 Online slot Space Botz is the work made by company Microgaming has high quick winnings. You can get them after one-two spins. If to play at the maximum rate, you will immediately notice the increase of credits amount. This game machine has five standard reels. The number of active lines is set from 1 to 25. The pokie is dedicated to space flights and robotics. Robots successfully replace humans. They climb on the rocks of unexplored planet, fly in space on a scooter and survive in the airless atmosphere of the ship. Robots are laborers. Each character brings good profit. And if there is Scatter and Wild symbol the winnings will be very big. The similar devices you can find in the section of our website dedicated to Space theme.
Space Botz slot game review
Rates in Space Botz
In order to start free game machine Space Botz players have a credit of 2000 coins. It remains the same after the change of all the other settings on the control panel. The amount is always unchanged. Two rates can be placed here. The first one must be set up any way. This is a bet per line. Its range is 0.01 - 0,50 coins. Gamblers can set up monetary stake or line bet on their own. If the monetary rate is made, the total maximum bet is done automatically. So, if you put on 1 coin, the total bid will be 2,50. If you set the maximum value of 10 coins then the total bet will be equal to 125 coins.
In order to do stakes per line in casino slot game Space Botz it is necessary to use the settings. There are 25 bands. If you put stake on one line, the maximum bet is automatically fixed – 5 coins. The maximum bet of 125 coins matches to the maximum 25 bands. In order to start the drums rotation it is necessary to press periodically the button Spin.
Space Botz sequences
In the game Space Botz there can be three combinations of simple images. The luckiest pictures:
Flying Robot;
The robot's head;
Robot with tentacles;
Robot on a scooter.
For flying robot icons you get:
500 coins – five pictures;
250 credits – four elements;
25 coins – three icons.
The robot's head symbols can bring a little bit smaller prizes:
400 coins – five images;
150 credits – four pictures;
20 coins – three elements.
In Space Botz slot for fun, robot with tentacles can give up to 400 credits in the biggest sequences and up to 15 coins in the smallest ones. For the highest number of robots on a scooter gambler receives 300 credits and for the lowest – 15 coins. For the letters icons player can win minimum 5-10 coins and for maximum from 150 to 250. 9 and 10 bring from 2 to 100 coins.
It should also be noted, that these amounts are not clear gain. In addition, while there is a count, they are multiplied by several times. The more images are in combination – the greater multiplier is in the game. Thus, for a combo of five images there is x5 multiplier, of four – x4, and three – x3.
Special symbols
Online slot game Space Botz special elements are Wild and Scatter. Each of them increases the winning amount. Wild symbol is presented by word Wild on a background of green ribbon. It multiplies all wins by several times. The more wild symbols land on the reels – the bigger is the sum. Wild can be located on any reel. All combinations are calculated from left to right. As an independent image wild symbol can create its own sequences in the game. Five identical pictures bring a gain in the amount of 1000 coins, four – 500 credits, and three wild symbols – 50 coins. During calculating the winnings the multipliers are taken into account. The more icons – the bigger multiplier is for the total sum.
As for casino slot machine scatter symbol, it is shown by word Space Botz and by clockwork wheels on the background. Symbol doesn't interact with any image in gaming process. It is also neutral to wild symbol. Scatter is active only on 3rd, 4th and 5th drums. If three or more characters fall out at the same time, you get the right for 5 free spins. In addition, you can become the owner of 5 more rotations in the random way. As a separate image scatter symbol gives the following prize: five characters bring 50 coins, four – 10, three – 5 coins and two scatters – 2 credits. In this case multipliers are also being involved in process by increasing winnings in several times. The more images are in sequence – the higher is the gain. If you don't want to play this slot machine only for free, [[$whereToPlayLinks]] casino offers to run it for real money.
Game Specs
Scatter Symbol

Yes

Freespins

Yes (5)

Active bonus

Yes
More games from Microgaming