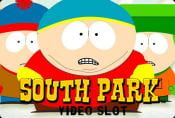 Cartoon about life of the inhabitants of the fictional town South Park, Colorado, created by Trey Parker and Matt Stone – is one of the most provocative and cult television show in history of TV. The whole world has been watching boys in funny life situations for 20 years. On the basis of this show people created a lot of games, beginning from simple shooters for game consoles end ending with RPG called South Park: The Stick of Truth. Developers from Net Entertainment couldn't do nothing but pay attention to the second largest cartoon after Simpsons. South Park slot game – is a great opportunity to meet with your favourite characters again and appreciate the extraordinary daring humour of Parker and Stone.
South Park slot game for free
How to play the South Park slot machine
The slot game starts with the video, where Kenny dies, it is very typical for this cartoon. Hero in the orange raglan from a dysfunctional family, dies in each episode, he is always mysteriously alive the next one. And this slot game starts with traditional death of Kenny, but this time frim slot machine. Then, in the front of player appear 5 reels and control panel with following options:
Coin Value – credit size;
Level – value of rates;
Max Bet – the game at the maximum rate;
Autoplay – automatic rotation mode.
The one-armed bandit online has 25 lines and it is impossible to change their amount. The reels are arranged on a background of the familiar to all fans of the animated series, mountain scenery and game is accompanied by Primus original soundtrack.  If you prefer playing on your gadget, find more mobile version of the games in the Mobile Slots.
The slot's symbols
The main symbols in free slot machine are images of the main characters. Cynical, overweighed Eric Cartman in a red jacket, a Jewish boy Kyle Broflovski with green hat, a stronghold of common sense in this quartet Stan Marsh in brown jacket and Kenny, who is always dying and it is hard to see his face because of the hood. Also on the reels you can see the card denominations and bonus symbols in the form of other characters – Canadian comedians Terrence and Phillip, odious character Mr. Hankey the Christmas and others. Wild symbol – an icon with the "Wild" inscription.
South Park bonus games slot
This slot machine with bonus may be called world champion on the number of bonus rounds. Each of the main characters of this cartoon has its own bonus game. To activate this bonus function, the combination of Bonus symbols on 3rd or 4th reel and symbol of one of the characters on 5th reel should drop out. For Cartman it is a fire extinguisher, for Kyle – a portrait of his brother Ike, for Stan – his girlfriend Wendy, and Kenny – his own image.
Kyle bonus round gives the player 10 free spins, during which the payout multiplier can range from 2 to 10. During the bonus game, devoted to Kenny, the player must guide the hero through several zones so he doesn't die again. Cartman's bonus asks the user to guess, which cloud hides the most generous prizes. The bonus game from Stan consists of free spins and Sticky Wild function. The reels are spinning until the "sticky" wild symbol is left on them. continue as long as "sticky" is the wild symbol on the reels. And to play this game for real money – click on [[$whereToPlayLinks]] casinos.
The game has small bonuses from other characters of this cartoon, which are activated in a random way. Prize function from Canadians Terrance and Phillip gives 3 wild symbols on the reels and bonus Mr. Hankey gives from 3 to 5 wilds. Look for other equally interesting slots in Free Slots section of our site.
Game Specs
Freespins

Yes (10)

Automatic bonus

Yes
How to win South Park (cheats and tricks)
In any slot machine, your chances of winning pivot on RTP, the amount you have already spent and the amount you have won during the game. Besides, you should remember that, usually, a big win is 1,000 to 3,000 times the bet, so it makes no sense playing with a bet of 1 cent if you want to win more than USD 10–30.
So, in the following situations you will be better off doing as suggested:
Main rule:
Your prize per spin is 100 times the bet or more
Freespins
You get free spins twice in ten spins
You win 50 times the bet or more in free spins
Automatic bonus
You get automatic bonuses twice in ten spins
The automatic bonus wins you 50 times the bet or more