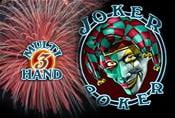 Online video slot Joker Poker 3 Hands card game is a classic variant of card poker powered by Real Time Gaming (RTG), made in the format of a casino gaming theme. The game has 5 cards, three deals with the duplicated selected positions and a wild symbol in the form of a joker. Visit the Poker and Video Poker pages to find out more games like this one.
Card game Joker Poker 3 Hands - online video slot
How to play on the RTG slot
This free online casino game is a version of the classic Five Card poker with a standard game mechanics based on the random number generator. The game interface consists of a simple menu and a virtual playfield. Graphic and acoustic components are relevant to the theme and performed at a high level.
The total bet in the game is set when you specify the parameter of the bet per game, which is set using the "Bet one" button in a number of 1-5 credits. Indicators of this parameter determine the amount of profit from a winning combination in a game session.
The essence of the free slots machine is to collect a winning combination. Winnings in this game start if the player has two kings and then by seniority. At the beginning of each round, the player receives 5 cards, from which he can select and change the remaining cards.
If you win the current round, there is a possibility to play on doubling or pick up the win.
"Bet max" button automatically launches a single round with the highest stakes on a card settings. This function will be appreciated by fans to play at high stakes.
"Deal" button automatically launches a current round with customised bets on a card. It is also worth noting, that in this free slot machine to play online, the player is offered three deals of 5 cards each. After pressing "Deal" button, the player has the opportunity to choose cards that he wants to keep, which will be duplicated in two other deals. After that "Draw" button is activated, which changes every non-selected cards into others in a random order. When a winning combination occurs, the player receives rewards.
Button "Show paytable" opens a table of multipliers for combinations in accordance with the selected bet on a card.
Symbols and combinations of Joker Poker 3 Hands
In this free online slots games, there is a standard set of classic poker cards consisting of 52 cards and 4 suits.
Combinations in this game determine the amount of profit per round. Multiplicity of a winning depends on the bet on a card.
King and higher bring profits in the ratio of 1: 1 to the current bet for a round;
Two pairs make a profit of 1: 1;
Three makes a profit of 2: 1;
Street – 3: 1;
Flush – 5: 1;
Full House – 6: 1;
Four – 20: 1;
Straight Flush – 50: 1;
Joker Poker – 80: 1;
Five – 150: 1;
Royal Flush – 250: 1;
Sequential Royal Flush – 500: 1.
It is also costs noting, that in this free online slot with no deposit, winning combinations can occur in all three hands. In this case, the profits from winnings are added up and transferred to the current account of the player.
This free slot game for fun also features a wild symbol in the form of an icons with the image of "Joker". The card with this symbol is universal and can replace any other card. This wild picture is also involved in some of winning combinations.
Conclusions
Overall, this game is made qualitatively and corresponds to the selected category. User-friendly menu and well-developed graphical interface provides a high level of comfort. Video Slot Joker Poker 3 Hands – this is not the only way to make a profit in the form of prize credits but also a good entertainment for gamblers.
If you want to play this game with more features so visit [[$whereToPlayLinks]] casinos and enjoy the full mode.
More games from Realtime Gaming