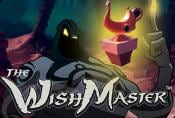 The Wish Master slot machine is another multiline online slot machine from the leading Swedish developer Net Entertainment. The feature of this onlnie slot machine involves a bright picture with 3D-effects and animation, mysterious musical background, written specifically for it, and the key characters of the game - the omnipotent genie, who starts a number of additional features when appears.
Wish Master slot machines - Symbols and winning combinations
Technical specifications of the slot
20 prize-winning fixed lines;
5 reels;
Wild multiplier;
Scatter for bonus rotations;
Additional Wild symbols;
Multiplayer option that increases gain in two or three times;
Autoplay function.
A few words about the developer
Net Entertainment Company (or NetEnt) is the largest manufacturer of interfaces and software for online casinos. The developer's headquarters is located in Stockholm. The organization has more than a hundred slot machines to its credit. To create some of them, Net Entertainment has involved top designers and animators. For example, experts from the 20th Century Fox, Universal and South Park Digital Studios. Furthermore, the idea and development of the largest platform for live online casino "NetEnt Live" also belongs to Net Entertainment company. This application functions on PCs, as well as on mobile devices, is available in dozens of countries and "speaks" more than twenty different languages. Gameplay is managed by real live dealers.
Origins of the slot game
The Wish Master is a slot machine of a new generation, as can be seen by lines in the number of 20, interface design, and additional bonus features. For a wider audience of users this device is available since 2016. Besides the standard Scatter and Wild there is also a symbol that summons a genie. He appears and starts rotations with additional prizes. What bonus will fall to you a spirit chooses in a random manner.
Rules and goal of the game
At the core of the functioning of this slot machine is the principle of a random number generator (RNG). What does it mean? The player spins the reels of the gaming machine, they stop, and the symbols are randomly arranged into prize or empty sequences. The main goal of the game is to catch on wheels the maximum number of winning combinations and gain a reward.
Rules of the game are conventional and does not radically differ from other slot machines. Further below we will tell about features, management process and gambling tricks.
Start of the gameplay
To begin with, this one, like any respected video slot, exists in two versions: standard and Free to Play or, in this case, Play for fun. The first option means a game on real money. The second is a demo version of the machine, which differs from the standard in the fact that it does not require any real money investments. Slot gives out a loan in game currency which is used by players to make bets. Beginners and inexperienced players are recommended to start familiarizing with The Wish Master machine through a demo version. It will help to study the rules and nuances of the gameplay without spending a dime.
License demo version of the video slot does not require additional registration or downloading and installing any software. So, you go to a page with a slot. Immediately after the loading there is screen saver displayed in front of you. Click on "Continue" to start the game. If you want this image never to appear again, put a check next to the words "Do not show next time".
After a short trailer with the duration of few seconds you will see a playfield with reels and the control panel.
The vertical columns with symbols are wheels. There are 6 of them. The number of working lines is twenty. They are arranged in three horizontal rows. To see the location of a line you are interested in, move the cursor to the corresponding numeral in one of two columns on the left and right of the reels.
The number of lines in the game is fixed and is unchanging. People play with the maximum number.
How to manage the Wish Master machine
In the beginning, you will need a configuration menu which is located in the lower left corner. Here are the following tools:
"Wrench". This interface controls sound effects, image quality, speed and frequency of spins.
"Megaphone". A standard icon present on every PC. It is responsible for volume regulations.
"Question mark" (?). The main information section of the slot. Click on this tool opens a separate small window. A player can find there a description of the slot machine, as well as playing rules, information on symbols, bonus combinations, navigation menu.
Below the playfield, there is the main configuration menu. It consists of several sections. From the left to the right:
Bold "i" letter in a green circle is a PAYTABLE. There is a detailed description of special symbols and bonus games. It also provides an information on quantitative values of combinations made of simple multipliers on the terms, that a player has already configured using the control buttons. The last page describes all paylines of the device.
"LEVEL" interface regulates bets. The demo version of The Wish Master slot has permanent rates fixed to each level. There are ten levels. For the game, you can choose any by clicking on arrows. A total bet for a round is displayed under the "BET" inscription.
AUTOPLAY. The tool runs a series of continuous rotations. There can be 10, 25, 50, 75, 100, 250, 500, 750 or 1000 spins. It's up to you to decide how much spins to do using the "AUTO" button in the lower left corner (next to the "?" mark). To stop continuous rotations before the deadline, press the "STOP" key.
Large round button is the main start. It launches one rotation on the terms you have specified.
MAX BET. This key too runs a single spin. Click here and start the round with the maximum possible bet.
COIN VALUE. This is a ratio of game currency to real cash, represented in euros, dollars or any other nomenclature supported by the gaming machine. Tough it affects the size of a bet.
Current balance is displayed above the "COIN VALUE" in the "COINS" section.
A numerical value of a prize is displayed right above a "Start" button in that case if the last round brought a victory.
There is a long black line under the configuration menu. It shows a balance, a bet for one line ("BET" section this rate is multiplied by 20), and the last win in real currency.
Symbols and winning combinations of Wish Master
Go to the "PAYTABLE" to learn more about the multipliers of the game.
There are eight common multipliers in the slot. They are literal symbols A, K, Q and J and four images of magical totems: purple snake, red cat, green scorpion and navy blue crow. To win you need to collect a combination of three or more identical symbols on one line. The most profitable sequence is five purple cobras, as they will bring up to 750 coins in the normal game without bonus features.
The system reads lines from left to right and chooses the best result. In case if several active lines have caught a prize combination, the system will count all. It may happen that prize sequences will fall on every of twenty paylines.
Despite regular symbols there is a Wild, a yellow "WILD" writing on a black background. This symbol substitutes for all simple pictures. Furthermore, Wild multiplier takes place of needed symbol in the combination that will bring a player the largest reward.
The maximum win on this slot is 900 000 coins.
"Bonus" genie
Catch a Scatter symbol depicting lamp and get an opportunity to increase the chance of winning and the size of the prizes in an additional bonus round. With the lamp comes the genie, a mysterious master of this slots. It automatically activates a series of 10 extra rotations.
That's not all. Genie makes all desires happen. Specifically, he randomly selects a bonus which will be operating for the next ten turns. They can be:
Random Wild. This bonus symbol randomly chooses two characters and turns them into Wild multipliers.
Expanding Wild. This symbol expands to cover the whole reel on which it fell and will be able to replace any simple symbol in the game, thereby increasing chances of winning.
Extra Wild. This symbol is of two kinds: red and purple. Each of them turns into a Wild a corresponding symbol of cat or cobra.
Multiplayer x2. This means that any winnings will be multiplied by two.
Multiplayer x3. Triples each prize-winning combination.
WILD REEL. The genie will randomly choose a raw and will turn all symbols into Wild multipliers on for the time of the whole the bonus round.
Scatters can fall during bonus spins. If this happens, the genie appears again and adds five more bonus spins plus grants another one from the features mentioned above. All bonuses during the game sum up, but they cannot exceed the number of three. Remember what the old tales says: genie performs only three of your desires. The Wish Master of the slot is the same.
If you already have three bonuses, but one Scatter falls on the reels the genie will chose one more option for you, which will be activated as soon as current rotations end up.
How to beat the machine
According to the developer, the probability of winning and theoretical profit on this slot is 96.6%. By the standards of gaming machines this indicator means a good chance of winning. But there are a few tricks that will help increase it in several times. Experienced players are advising:
Carefully read the rules and slot description, which are located under the button "?" button. Be sure to read about the symbols, bonus combinations and bonus opportunities in "Paytable" section. Time has shown that the better a user is familiar with the gaming machine, the more chances he has to win. Despite the fact that it's impossible to predict an outcome of random number generator and contrary to common belief that beginners are lucky.
Follow the history of your game (this option only opens in the standard game mode when playing for real money).
Do not play at too low or too high stakes. It is better to choose the "middle ground".
Gradually increase the size of a bet after each win. But do it carefully and smoothly.
Avoid a series of short rounds.
Take a break after a long series of wins. Victory quickly goes to the head, though gambling requires to think clearly in order to succeed and not to spend money in thoughtless way.
Discover more about this video slot in [[$whereToPlayLinks]] online casinos. Here you may play not only for free but also for real money.
The myths about The Wish Master and slot machines of its kind
The rumour has it that sure should not be trusted is a common misconception about how to choose the slot machine to win for certain. For example, it is said that slots are "hot" and "cold". The first category includes those slots which haven't brought a victory to anyone for a long time. It has more chances to bring win that other devices. There is no real evidence for this statement. Especially in the case of online video slots.
The same can be said of advices to heat coins and tokens before throwing it into the one-armed bandit.
To trick a slot machine is also a tough task, so do not expect that you will be able to calculate in advance the combination of a slot machine. To calculate an outcome of Random Number Generator is an impossible challenge for humans.
If you're unlucky and you lose, don't blame the owners and employees of gambling institutions. Your loss does not prove dishonest activities of a particular casino. To reprogram the gaming machine so that it could give a minimum number of prizes is a talent that is given to a seldom computer specialists. This is a very time-consuming and expensive process, and it is unlikely that the owners of casinos would risk the reputation and license for a small profit.
The only thing you need to give value in choosing a slot machine is casino itself. The institution must be proven and reliable, regardless of whether it works online or hosts in a stationary room.
Similar slots
Slot machines from Net Entertainment developer, similar in specifications to the video slot The Wish Master:
Aliens is a 15 years old slot with 3D graphics, a Wild multiplier, respins and multiplayer.
Dracula is a slot machine developed together with Universal company. It has bonus spins and Wild symbols.
Mr. Green Moonlight is a slot with 10 paylines. It has a multiplayer, Scatter for free spins and Wild multiplier.
Frankenstein is a slot machine with twenty payment lines. There are also several bonus multipliers, Scatter and advanced multiplayer capable of increasing the prize five times.
Crime Scene is a video slot with 15 prize-winning lines, Wild Sticky symbol and the bonus game.
South Park is a slot machine based on the popular animated series of the same name. Here are 25 paylines and several kinds of bonus games.
Game Specs
Scatter Symbol

Yes

Automatic bonus

Yes

Super bonus

Yes