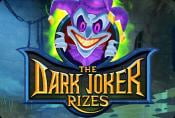 The Dark Joker Rizes online slot machine is developed with win both ways option – it has five lines that pay you from left and from right columns at the same time. It features Jokerizer mode that is activated after each winning chain, Mystery wins and other amenities are waiting for players on its five columns. Moreover, it uses the traditional design – fruits and bells, but the approach and graphics are surely new.
Dark Joker Rizes online slot machine with free bonus
Simple settings – just press on Spin
For starting playing this game you need to complete just two steps:
Select the coin value;
Trigger the game with spin/auto spin button.
As far as amount of lines is fixed – 10 in general in this fruit machine play free, the Cash bet is altered only with one parameter – coin value. Moreover, its denomination effects on the amount of reward. Thus, setting it in limits of 0.01 – 2 euros, just consider that the higher it is, the more luxurious will be pays for your combos.
When the total stake is outlined, launch the gaming process with Spin button or select the quantity of self-regulated rotations with Autoplay starting from 10 and going to endless amount. In addition, with the hlp of Spanner menu you can set the advanced configurations for this mode.
Moreover, by pressing on violet '+' you can find buttons leading you to Paytable with fruit machine icons, detailed rules and volume button.
Fruits and bells in evil Joker's circus
All six ordinary symbols are familiar to each slots' player – stars, grapes, bells, sevens, cherries and lemons. However, due to its 'dark theme' you may see eyes on grapes, bells in the flames of fire, frozen sevens, mysterious skulls on cherries, mended lemons and stars on fire. Well, it is Dark Joker Rizes slot anyway.
The minimal winning chain that is assembled with symbols in this slot is three of a kind. Stars, Sevens and Bells have more lucrative pays, than fruits:
5 stars – 300 casino online gaming credits;
5 bells – 100 gaming credits;
5 sevens – 200 gaming credits.
And do not forget that this game pays you both ways, thus you will get doubled prize for five symbols in a row!
Surprizes from Joker – special modes and generous payouts
Each winning chain activates the special mode – Jokerizer. In this session, the spin costs 20 coins and to get the Mystery Win you need to collect only two jokers on the reels that award you with great sum from 20 to 6000 coins. Note, that if you get more than 500 coins with Mystery win, the Jokerizer mode will be stopped automatically. Moreover, during this online slots mobile session you can bet at once 200 coins, ehn you do this, getting one extra joker on the reels enlarges your chances to win. If you catch the Mystery win in this mode, you will trigger re-spin bonus with stacked jokers. In this case, you have a chance to get the Win again, but according to the standard rules for ordinary mode described below.
During the main game, Jokers award with Mystery Win too. The point is that you need more Jokers to get it. Look at the table below:
3 Jokers – 1000-6000 coins;
4 Jokers – 3000-6000 coins;
5 slot games joker– 6000 coins.
Thus, have a good luck in collecting Joker and estimating its interesting features.
How to trick the slot?
For gaming, productively and with profit, we recommend each player to develop his/her own strategy that will help you to game. As far as this algorithm involves personal approach, we can offer you only the general things, which you may find helpful. Thus, those key ideas are the following:
Slot itself – check its coefficients, features and bonuses. Estimate the potential of the slot;
Money management – check the stakes, its limits for slot, define your own ones;
Loss limit – set the amount, which you can lose in slots free iPad;
Time limits – constantly check the time you spent on gaming.
Use those tips as basis and have a profitable gaming!
More games from Yggdrasil Gaming