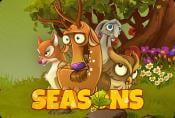 Open something new for yourself about winter, spring, autumn and summer with Seasons slot game play now by Yggdrasil Gaming company. Four wilds for each time of a year with exclusive features like duplicating wilds, wild with re-spin and wild activating multipliers in parallel with impeccable design, sound effects and user-friendly settings area. Seasons slot is developed with 20 fixed wagering lines and 5 columns. All combinations are counted from left column and are qualified from three of a kind. So, just get more specific info about its magical symbols and we will begin our yearlong adventure.
Seasons slot game online review
How to change the season
Yggdrasil liked to create slots with fixed amount of lines. It simplifies the settings work for players, thus, they just need to place the preferable wager and may start the slots gaming right away. Stake is altered with a special selector 'Coin Value'. It involves 15 options in ranges 0.01 – 5 pounds that can be set pressing on '+' or '-' buttons increasing and decreasing the total wager amount. Go to the Slot Machine Rules page to know more about the gameplay on slot machines.
In such a way, the highest total stake that can be played here is 100 euros, and the minimal one – 0.20 euros. As you see, it is counted simply set coin value multiplied by fixed 20 lines.
Of course, the gameplay engages the Max Bet parameter regulating the highest bet per spin. Pressing on it, you activate 100 credits wager at once for online slots betting and screen notifying you about it appears.
Another thing that needs player's assistance – gaming mode. There are two modes for making reels run:
Ordinary – activated with Spin button.
Automatic – the amount of self-regulated rounds is set with its selector in ranges from 10 to endless and mode is triggered at once.
In addition, on the settings panel behind the button '+' (violet one) you can find helpful tools for adjusting the sound and visual effects, as well as learn extra rules and review the Paytable.
Profitable gift from the nature in Yggdrasil slot
All combination in Seasons slots free online can be created only on the wagering lines. The scheme for each of them is shown at the Payable area on the last slide. The minimal accepted winning event here is 'three of a kind', i.e. three wild strawberries or three cones and so far. All of them pay only one way – from the left reel.
Besides special Wilds and Scatter, which we mention in the next paragraph, you can create the paying combinations with the following pictures: toadstools, wild strawberries, blueberries, acorns, cards shaped as leaves and cones. The most profitable are wild harvest pictures. Five of a kind with them in online slots demo can bring you such outcomes:
5 wild strawberries – 1000 coins
5 blueberries – 750 coins
5 acorns – 600 coins
5 cones – 500 coins
5 toadstools – 400 coins
As about cards looking as multi-coloured leaves, they have lower pays for the same combinations, but occur more frequently on the reels.
All year on the five reels
This game can be played in any mode – winter, summer, spring or autumn. They change on a random basis after 10 spins in row. Sometimes, season may not be altered and you will stay in winter or spring for a while. 
If you are now in winter free slot machines mode, you are extremely lucky, because its duplicating wild – hare – brings enormous winnings for players. Appearing on the reels, he looks around aiming for the most beneficial winning chain and when he founds it, he jumps on that position. More hares you catch at once, the higher will be pay-outs.
As about spring, its wild icon is owl. Landing on any reel it features re-spin, as well as fly from cell to cell on the gaming field. Longer it stays inside the gaming area, more re-spins you will get.
During summer time, you can meet charming deer on the reels. It acts like a duplicating casino online wild, but has the certain pattern for duplicating – cross. When he appears, he makes four wild icons around.
The last wild that you can catch is fox and she lives in autumn session. She triggers multipliers, if winning chain is created, when she is on the reels. More foxes you will meet within one spin, the higher will be amount of multiplier:
1 fox – x2 – x5 coefficients
2 foxes – x3 – x6 multipliers
3 foxes – x4 – x7 coefficients
4 foxes – x5 – x8 multipliers
5 foxes – x7 – x10 coefficients
In addition to its numerous features, it is possible to get slot games free spins. Collect at least three special symbols with Free Spins on it and you will be credited 7 free spins, if you catch four of a kind with this logo – 15 free spins, and for five of kind – 30 free spins. 
How to trick the slot
It is impossible to trick the Yggdrasil products, because they use certified random number generator and state about the slot fairness and complete randomness in each description to their games. What is it 'Random Numbers Generator'? It is processor generating the outcomes in slot. It creates independently the sequence for each icon on the slot games for iphone reels and they appear on the gaming field due to those results. Actually, the sequence is ready right after you press on Spin. Everything you see since that moment on the screen is just the graphic and animation for entertaining you.
As you see, it is truly impossible to trick the game. However, you can use some advices and it will not 'trick' you. They are the following ones:
Check the rules and data about the game. Consider all pros and cons. If answer is positive – go to the next step.
Manage money on the balance – define the video slot casino stakes amounts, its sizes, how much you can lose, and spend on the game in general.
Check the reality. Do not let the game involve you too deeply to the process. You can make it on your own – like set the timer on your phone, or use casino/slot settings for its purposes.
Monitor the incomes – how much you have won and correspond it with the general stake. Do not let the illusion of 'small wins' deceive you.
We do not bind you to those methods, but just recommend you to play reasonably and weight your each step. In such a way, your online slots mobile hobby will be always pleasant and profitable. Read more information in  the Strategies of slot section of the website.
Does the description of this slot machine sound interesting? Try your luck playing this slot on [[$whereToPlayLinks]]
More games from Yggdrasil Gaming