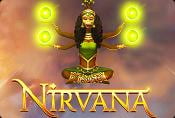 Creative programmers present captivating graphic and exclusive features in Nirvana online slot game from Yggdrasil Gaming. Mythological creatures, free spins with druids awarding you with shifting reels, extra wilds and synchronized reels – all its amenities can happen to you on 20 fixed lines right now. Just customize the settings with few clicks and the slot will be ready for adventures.
Nirvana slot game for free
Activate your stake before a spin
Yggdrasil gaming aims to create innovative slots. Thus, they pay attention to such things as graphics, interface and convenience. Nirvana slot has mysterious design and can surely captivate you with animation of symbols. As about convenience, you do not have many parameters to be altered, before you start spinning reels in these free fun slots for you. In fact, there is only one option for it: Coin value.
It lies an impact on the total stake. It is possible to set any from 15 coins denominations in the limits from 0.01 to 5 euros clicking on '+' and '-' arrows.
After all those alterations, check the total bet parameter displayed on the Cash Bet screen. As you have understood, it is counted accordingly to set coin value multiplied by amount of lines that is stable – 20 wagering strips. Therefore, your Cash Bet may vary from the minimal 0.20 euros up to the highest – 100 euros. Setting the Max Bet for slots online betting with such option, you will be notified about your choice with a special screen. This button activates 100 euros stake automatically.
When wager is set you have the choice to play this slot manually pressing on spin button, or set the session of self-regulated reels with Autoplay and just observe them running. The autoplay button has the window with amount of spins from 10, 25, and going up to endless quantity. Press on appropriate digit and trigger the session.
Moreover, have a look at the small button with '+' on it. It expands its own menu with advanced settings for visual and free slot machine sound effects, as well as it gives the access to rules and Paytable area.
If you'll be interested in the play on money in Nirvana slot after reading our review you can do this in [[$whereToPlayLinks]] casino.
Find all mythological creatures on five reels
In Nirvana slot, you can create paying combos with different creatures famous from stories and fairy-tales: basilisk, jackalope (hair with horns), golden phoenix and gryphon. All of them assemble in luxurious and profitable winning events, especially, if you catch five in row with them. You will get 200, 175, 250 and 150 coins respectively. All those amounts are enlarged by coin value, not cash bet. Moreover, winning events may occur only on the wagering lines starting from the leftmost reel.
Another group of slots pictures are cards designed as wooden medallions here. Hearts, spades, clubs and diamonds have mysterious power being assembled in combos starting from three in a row and bring you modest and pleasant pays – 75, 70, 60 and 50 coins for five of a kind respectively.
The minimal paying combo that can be gathered here is three of a kind. Each mentioned above symbol has its peculiar scheme for crediting pays. Moreover, on the final slide in the Paytable area you can see the winning chains and how pictures may be assembled on them.
Meet the druids deeply in the forest
Going deeply to Nirvana forest you can collect at least three of a kind combo with Lotus, which acts here as slots scatter and awards you with free spins and coins. There is a special scheme for crediting bonus game with this pictogram:
2 lotus flowers – 1 free spin with randomly picked up feature by the system;
3 lotus flowers – 10 free spins;
4 lotus flowers – 10 free spins and 1000 coins;
5 lotus flowers – 10 free spins and 5000 coins.
However, it is not the end for features. In the beginning of the free rounds, you can choose between three various modes with additional amenities helping to create winning chains. Therefore, you can activate any of the mentioned below. Moreover, if during casino slots free spins you catch three Scatters again; you can re-trigger the mode and add another feature. Thus, you will be playing 10 spins with 2 active bonuses. In addition, if you catch three lotuses again, all three features will be used at once:
Wild seeds – adds from 2 to 4 extra wilds to the game;
Mega reel – frames the three middle reels and creates on them identical symbols combinations;
Nudge reels – shifts the reel up or down for creating the combo, if it is possible.
Each feature has its own statistics based on such parameters as win frequency, win potential and chance to re-trigger free slot games with free spins. All those peculiarities are shown in the Paytable area. If you would like to find out more about different Bonuses in casinos open the corresponding page of our site and read it.
How to trick the slot
This question may play low-down trick to you. Reviewing some 'special tips' we have found many based on superstition, predictions and myths about slots, which have nothing in common with common sense and technical knowledge about the game. The point is that each slot in general, and by Yggdrasil in peculiar, is developed with RNG creating unpredictable sequences of numbers. Those chains or outcomes are generated constantly, thus, even if you play the slot for a while, no observations will help you to win.
However, if you prefer to control the online slots gaming procedure, you can manage your losses, define stakes and their amounts, as well as check constantly your wins and reality, i.e. how long have you been playing and how much have you already spent and won? 
More games from Yggdrasil Gaming