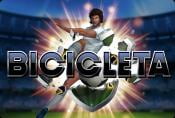 Witness the football championship on five reels Bicicleta online slot machine by Yggdrasil-gaming. Practice the special hit called 'bicicleta' for turning football players into wilds, trigger its free spins mode and collect money rewards as a winner holding the special Trophy. Moreover, all Yggdrasil masterpieces perfectly suit your mobile devices, so play this game on iPhone or other devices and master your gambling-football skills.
Online slot machine Bicicleta 2017 for free
Getting ready to the championship: wagers and mode settings
The successful gaming depends on your knowledge about game, its rules as well as on right and reasonable wagers. The Bicicleta slot is created with fixed amount of lines – 25. Its quantity is shown on the settings panel of the slots of fun online in the special screen 'Lines'.
Thus, for placing your own wagers, you need to operate only with one selector:
It has the special arrows using which you can increase or decrease the total stake. You have 16 options for altering the general wager and setting the appropriate one. The minimal Coin Value is 0.01 euro, whilst the ultimate – 4 euros. In such a way, the total stake can be placed in limits – 0.25 euros – 100 euros. The ultimate stake can be placed at once on wagering with Max Bet function. The ultimate bet is 100 euros. The general slots online bettingis counted as follows:
Coin value increased by amount of fixed number of lines (25).
Another parameter to be chosen by you – how to conduct the game? Press Spin button each time the round is ended, or – set the definite quantity of self-regulated spins and just observe the action. Operate with the next buttons for triggering the game play:
Spin – big round button in the centre of the gaming panel;

Autoplay – smaller button near it. Pressing on it, you expand the window with automatic spins. Choose either 10, 25 or even endless quantity and begin to play.
In addition, on the slots gaming panel is placed violet button with '+' on it. Click on it for expanding the menu:
Paytable;
Game settings;
Rules of the game;
Volume button;
Full screen button.
Operate with those options for activating additional settings; learn more about rules, crediting pays and other features mentioned briefly in the Paytable section.
Pick the best symbols to your football team
Arrange all symbols on the wagering lines in a right way starting from the left reel for getting your pays accordingly to the Paytable. The rules for crediting pays are the following:
Assemble slots pictures in winning chains with three, four or five characters in it;
Each combo pays due to its outlined gaming credits in the Paytable multiplied by coin value;
If more than one chain is created, all wins are summed up.
With 0.10 euros coin value we have made few spins and collected 14 combinations with the football player in white form. All of them are three of a kind (pay 20 coins), thus, we have collected 280 coins. In its money equivalent, we got 28 euros.
Actually, four football players are the most rewarding icons, especially, if five in a row occurs on the lines in free online slots no sign up. By assembling them in such combinations, you can get 250, 225, 200 and 175 gaming credits. Other pictures are traditional cards – aces, spades, diamonds and clubs. Five of a kind combo with them bring you 80, 70, 60 or 50 coins.
Features and bonuses
All special rounds and other amenities are regulated in this game by three peculiar symbols – Trophy, Wild and Scatter.
Wild appears in the main mode and stands for missed icons for creating the most paying winning event. It cannot replace two other special pictures. Moreover, the Wild itself does not appear in the free games mode.
The Trophy all slots bonus can be caught only on the last column, but the chaise is worth your efforts. It has two various schemes for crediting prizes:
In main mode – 8-12 free spins and maximally 1000 coins;
In free rounds – 2-4 extra free games, up to 1000 coins too and the wild reel.
Free games are traditionally activated with minimum 3 Scatters. More balls are on the screen, the greater is the amount of free rounds. You can activate 8, 16 or 24 free games, if you manage to collect three balls, four or five respectively.
During the free games session, all football players in these slot games on pc that fall out on the reels try to hit the goal with the famous 'bicicleta' trick. If they manage to do it, their pictures turn into wilds ones and remain sticky to the reels until the feature ends.
How to trick the slot?
We prefer to give only practical advises to players. That is why you will not find here any 'urban legends' based on such theories as hot/cold slots, increasing stakes for making slot owe you, blind relying on RTP and other things. Due to our humble opinion, the gambling should be responsible. That is why we recommend you to manage your video slot casino bankroll first. The Bicicleta slot involves wide limits for wagering that suits all players, so just define the preferable sum, you can put on stake, after it – divide it into smaller wagers and begin gaming. At the same time, it is reasonable to set loss and win limits. For example, you can afford to lose 50 euros, thus, watch your balance and if you are close to that point, decide whether to stop gaming or not.
Another helpful tip – to set reality check. Some games have the built-in option reminding you after some time how long you have been playing slot games for mac and shows all your achievements. In such a way, you will not let the game captivate you.
In addition, the last suggestion – learn the rules. In such way, you will be able to estimate the slot and the theoretical profit it can bring to you. Here you may consider RTP too (in this game it is 96,3%). However, remember, that it is just a theoretical result.  
More games from Yggdrasil Gaming