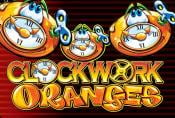 This good slot machine game from Novomatic slots maker has 5 reels and 20 active lines, includes special symbols and a bonus game. The bet per line parameter ranges from 0,02 to 5 coins, and the maximal prize of this game is 5 000 000 coins.
Clockwork Oranges slot machine doesn't have too many symbols in it; during the game, you'll meet symbols of playing cards, bonus characters with the orange clockwork, Wild and Scatter pictures. Bonus symbol transfers the player into a bonus game mode, where you can get big prizes, and Scatter gives coins, not free spins.
Get more information on this and other creators of slot machines in the Developers section of our website.
Clockwork Oranges slot machine no deposit
How to play casino slot machines
The player has to open the Menu, located in the right part of the screen, and choose the number of active payment bands in the Lines, and the bet per line in Bet/Line fields. Thus, the total bet level will be shown at the Bet window. You can use the maximal possible bet in one click by using the Max Bet button. Press the Start button to start a game. Hold this round button to start the automatic spins, in which the reels will keep turning on their own. The Last Win section contains information on your last win, and Credit has data on your gaming balance state.
Bonus symbols
Wild can substitute any missing symbol to form a prize combination in slots for fun, except for Scatter and Bonus. Wild symbol can increase the number of prize combinations and also bring you profit by creating its own sequences:
Two characters  – 2000;
Three elements – 50 000;
Four icons – 500 000;
Five pictures – 5 000 000. 
A Scatter with a game logo won't bring you free spins, but it can give you coins when there's a combination of at least two of them:
Two Scatters – 2000;
Three Scatters – 25 000;
Four Scatters – 50 000;
Five Scatters– 250 000.
The shown prizes can be received while playing with Max Bet.
A bonus symbol with orange clock will start a bonus round after it appears at the first, third and fifth reels.
Bonus game
The player is transferred to a separate gaming field, containing clocks. In a random way from one to three clock hands will appear. Then the player will see new clocks, containing fruits instead of numbers, and each of them has its own value. The clock hand will stop on one of the fruits, and the player will get a prize of total bet multiplied by specific number.
If all three clock hands are active in the game, and all of them will stop at the alarm clock symbol, the player gets into a super game mode, that offers higher prizes.
Symbols and payments of slots machine online game
The set of main symbols includes playing cards, and brings players profit by forming combinations:
Nine – 5 000, 10 000 or 100 000;
Ten  – 5 000, 10 000 or 100 000;
Jack – 5 000, 15 000 or 100 000;
Queen – 5 000, 15 000 or 100 000;
King – 10 000, 20 000 or 200 000;
Ace – 10 000, 20 000 or 200 000.
The shown prizes can be received while playing with Max Bet.
Maximal profit of slot games for fun
If all lines are active and the bet is maximal, you can get a prize of 5 000 000 coins. To do that, you have to form a combination of five Wilds at the same line, which is quite a hard task. It's much more easy to get a sequence of 5 Scatters in slot best game, since those do not depend on lines, and they can expand on the whole screen. For this feature, the player will get 250 000 coins.
Despite the minimal number of symbols, the Clockwork Oranges slot machine from Microgaming offers quite a wide range of bets, which allows the prizes for combination to reach large sizes. Another important factor is the bonus game, that will satisfy the players with grand awards. If you want to win money from this game, play the full version in [[$whereToPlayLinks]] casinos.
More games from Greentube