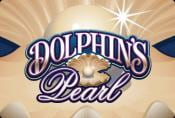 Slot machine Dolphins Pearl are classic slot from Greentube on interesting nautical theme. Colorful symbols of sea creatures are spinning on machine's reels. They are combined in prize unions or perform special functions. Assembled combinations bring winnings, which can be used in the round of multiplication. The main character of this slot is a handsome dolphin. That's why he acts as a Wild symbol. Slot is not limited by only simple rotations of reels but includes bonus spins. Comfortable control panel with standard keys and stylish interface makes it possible to focus on gameplay and unobtrusive musical accompaniment. It makes reel rotation extremely pleasant.
Dolphins Pearl slot machine review
Rules of Game
This slot machine includes a field with 5 reels, where from 1 to 9 paylines can be active at the same time. Under the playing field there is a remote with main buttons, which are responsible for settings of gambling machine, launch of reels and give a view of a table with information.
The main goal of the game on Dolphins Pearl machine is to hit a jackpot by means of:
a one-time or automatic reel spins;
a round of free spins;
round where it's possible to multiply winnings. 
But if you can't make a killing - do not worry.
It is necessary to press a square button with the inscription "Start, skip, take win" to turn the reels. This one launches disposable turnovers. Players can also use "Autoplay" button, which starts reusable rotation of reels.
However, to maximize a control under the dynamic of slot's rotations, a player needs:
To get acquainted with the basic rules by clicking on the Paytable, which will open a window with the necessary information and will allow to see the right rotation;
Find the numbered levers "Line (1,3,5,7,9)" on a remote and set the required number of paylines;
To use button with red stripe - "Bet One" - to adjust the rates from 1 to 200 chips per line. If player wills to make a rotation with the maximum possible number of credits - a simple click on the button with a black stripe, titled "Bet Max", will be enough.
Above the remote with keys there is a separate panel with information windows "Credit", "Bet / Line", "Lines Bet" and "Bet", due to which, the player can inquire information about:
current status of the account;
a bet on one strip;
a number of activated lines;
 the total number of rates.
Player can check the winnings for the latest successfully assembled combination in a long dark field.
Gaming machine Dolphins Pearl can be played for free and without registration, if player uses the demo credits that are on the account. Initially, the player can use 1,000 virtual chips. Game for free is a great opportunity for beginners to get acquainted with the peculiarities of all the modes and specific features of a slot. Furthermore, if the stock of virtual chips is exhausted, game for free can be started once again.
How to win Dolphins Pearl 
To get desirable prizes on the slot, it is necessary to place the maximum possible number of prize combos on paylines and not to be afraid to take risks in a risk-game, if the gains are not very impressive. But extremely venturesome players are not afraid to put a pretty huge ganes and to multiply them in risk-round.
How to win on the slot machine, follow the instructions. It will help to achieve results.
Bonus combinations during the reel spins are made up of 3, 4, 5 identical symbols, that should form a continuous sequence from left to right. Awards for the combination depend on:
the number of symbols in the union;
type of symbols;
size of the original bet.
Detailed information about payments can be learnt in help window. But it should be noted that all data in the info table depends on the current settings. In addition, the information window will acquaint with peculiarities of round for doubling and free spins also.
Each assembled combination is the possibility to turn on a risk-game. It is necessary to click on "Bet One" or on "Bet Max" in order to run this mode.
In the gaming machine Dolphins Pearl prize sequence are composed of these symbols:
Symbols of playing cards "9", "10", "J", "Q", "A", "K" give from 2 to 125 multipliers;
Ratio of symbols with brindle yellow fish range from 15 to 250;
Combination with seahorses gives rates of 20 to 40;
The sequence of crabs and rays will give a player from 2 to 750 multipliers for a sequence of 2 to 5 symbols 
Apart from symbols that generate prizes, here are special icons on the slot, namely:
Symbol with the main character of the slot - a dolphin. It acts as a wild symbol. This symbol is able to complete any unfinished combination. And if symbols of a dolphin are lined up in a separate combination, the profit will be from 10 to 9000 multipliers.
Symbol with pearl is a scatter that appears on the field in a random order, brings a gain and triggers a bonus-round. Player necessarily has to collect from 3 to 5 scatters on the field to enable the prize turns.
Specificities of additional rounds
A player has an opportunity to start the risk-game when the winning union of symbols has been formed. Click on "Bet One" or on "Bet Max" to begin the round. The main task of this additional games is to multiply the amount of prizes that were obtained after a successful spin. It is necessary to guess a color of hidden cards to win such game. Each correct answer multiplies winnings. However, one mistake will nullify all the points that were received for a spin. That is why not all the users like venture round and this is the reason why participation in it is not mandatory. Note that if player revolves reels in auto mode, the ability to play risk-round for multiplications of winnings will be not available.
When cells of slot machine fixate 3 or more pearls – this is a sign of luck that foreshadows free spins. For players to know, in this round reels rotate automatically for 15 times without taking credits from piggy bank. A triple payment for each collected combination is a specificity of game on Dolphins Pearl slot. In process of free spins' execution, the user can collect another portion of scatters on the field again to get 15 extra bonus turns.
Secrets
Of course, to predict the result of reels' revolutions at any original slot machine is quite difficult, but if you know a few basic principles, you can significantly improve the quality of the game itself. Here are some of them:
To speed up the dynamics of spins at Dolphins Pearl machine one must play the maximum number of turned on paylines and with the highest bets. To prolong the pleasure of a process of the game, it is necessary to set minimal indicators. For example, if player sets only one payline and put on it only one credit, then the game will last for an incredibly long time;
Even if player does not like to take risks in risk-game, this round shouldn't be forgotten. For example, it is always possible to risk by small profit, because its incensement will be a pleasant reward for courage. A loss of small winnings will not upset too much. But, as is has been already stated, the ability to run doubling mode at this slot absent will be absent during auto-spins;
Customizing of rate and other parameters is possible in any period of reel rotations, but not when an option of free spins is executed.
And in order to enjoy the game as much as possible, player should immediately pay attention to nice and uncluttered interface, convenient location of keys, a pleasant background music. All these factors provide an opportunity to be lost in the game. Speaking frankly, the opportunity to play in different modes makes gambling entertainment much more diverse.
Mythology
Many myths walk among players towards machine on the theme of dolphin's adventures:
The first myth says that to beat the slot machine Dolphins Pearl is possible if one continually doubles the bet;
The second myth says that when total number of chips is multiplied three times, the game has to be interrupted;
According to the third myth, one should not rotate the reels, if 10 consecutive spins did not create a prize combination;
Myth Four. After three successful preferences in risk-game one needs to pick up a prize.
Carefully read different myths about slot machines to avoid the common mistakes.
Also, many players believe that if it was not possible to collect a great combination on this slot for a long time, then it should give a good prize soon. In addition, some users try to trace the scheme of combinations' appearance on the field. But experienced players know that all the results of reel rotations are random. Attempts to identify certain patterns is a banal waste of time, because the results of each game are absolutely independent of previous emergences. It is useless to be stuck with idea how to beat the machine, it is much more better to enjoy the game itself and, if player is on the roll, to enjoy winnings. Entertainment at the Dolphins Pearl slot allows to forget about everyday troubles and feel an incredible feeling of an unusual combination of a calm sea theme with saturated spins.
The history of slot machine
True connoisseurs of gambling are familiar with slot machines from Novomatic. Dolphins Pearl is one of the most popular among them. That was back in 2001 when this machine appeared and quickly attracted the attention of players from around the world by the easiness and the interestingness of game with free spins and а risk-game. No wonder slot machine Dolphins Pearl is called the "pearl" of the Novomatic. When the slot just appeared, its graphics was one of the best.
The success of this slot was the reason for the developer to release in 2016 update of the slot that has «deluxe» in the end of a title. It doesn't differ much from a previous slot with almost same title, but some players admit that control panel seems to be more convenient.
The reason for the creation of Dolphins Pearl slot machines was a popular at that time nautical theme, as well as love of developers and huge interest of Novomatic machines fans to an ocean and its mysteries.
Few people know that the company has studied a huge number of myths and legends about dolphins while choosing the characters for gambling machine. This will be discussed below.
Today, almost all major offline and online casinos have machines Dolphins Pearl and Dolphins Pearl deluxe. Their popularity doesn't decrease, but on the contrary continues to grow.
Subject of Dolphins Pearl slot machine
The basis of the gameplay on this slot is a tale about maritime adventures of the brave and funny dolphin, who guards the pearl of the ocean from evil. Other marine inhabitants help him to do that. But why that had to be a dolphin and a jewel? Few people know that dolphins are mammal that live in two realms. They don't only swim, but also are capable to make long jumps over the waves and float in the air. Therefore, the dolphin is both the strength of the waves and the freedom of flight. No wonder that in the Minoan culture dolphin symbolized the power of the sea, and in the Greek it accompanied such gods as Aphrodite, Poseidon, Dionysus and Apollo. So who should be a guard of the most precious treasure of the sea, if not a dolphin? But despite its power, the inhabitant of a deep sea is ready to make friends with particularly lucky players who are willing to help him to keep order and peace of the boundless sea vastness.
But why it should be a pearl? Perhaps the point is that pearls have always symbolized happiness, beauty and, of course, treasure. It has been believed for a long time that this miracle of the sea has magical properties. But that is not the only ability of pearls. They are extraordinarily beautiful. Girls and women are aware that jewelry made of pearls are especially exquisite and expensive. No wonder dolphin tirelessly protects this rare treasure.
Thus if you rotate the reels of Dolphins Pearl slot machine, there is a chance not only to get great winnings, but also to be acquainted with the history of marine inhabitants' heroism, who dedicate their life to preserving of peace and quietness of sea kingdom, as well as to keep important treasures of sea depths in safety.
Slot Machine Dolphin's Pearl is a great opportunity for players of any age to escape from everyday life, get a charge of good feelings and try their luck. Make friends with a dolphin and then the jewel of the seas will be yours! 
Game Specs
Scatter Symbol

Yes

Freespins

Yes (15)
More games from Greentube