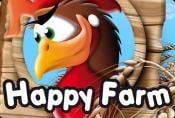 Scratch cards – popular type of slot machine online which successfully fits in the wide range of games, offered by online casinos. Happy Farm Scratch from Greentube – simple and user-friendly game from Greentube, where gambler should find identical characters on the card in order to become a winner. On each card there are nine cells under the coverage, which you'll have to erase and see the result. On our website, you'll be able to find more scratch cards on different themes.
Happy Farm Scratch slot machine online
Game rules
After the loading of Happy Farm Scratch user has to get acquainted with the rules that can be viewed in Paytable. Round in free slot machines games begins with buying a card with nine covered cells. Player can see what is under the all of cells by pressing on Auto-scratch or open them one by one using computer mouse.
The value of each card is fixed, it isn't possible to change it or buy more than one card. Each symbol has its own frequency of falling out which is indicated in the payout table. In point of fact, Happy Farm Scratch shows the work of random number generator using simple and understandable examples.
If there are three identical symbols on the card gambler should press on Take to transfer win to the balance. After this it is possible to continue playing in casino slot machine games online.
Control panel of Happy Farm Scratch
The control of Happy Farm Scratch is simple because there are just two active buttons in this slot. One of them is Paytable, which opens the information with characters, awards for them and general rules. The second one – Buy card/Auto-scratch – is responsible for buying card and automatic erasing of the coverage.
The biggest part of the screen is taken by card with nine cells for pictograms. On the left hand of it one of animals appears every time. Depending on the animal type the card colour changes. Regardless of the fact that animation is of the high quality this part of game field doesn't influence the game process in any way.
Player of online slots for free can erase the coverage on his own if he wants to. To do this he should move the cursor to the card, press on the left button of it and erase. The process is the same as with real scratch cards. At first symbols of Happy Farm Scratch are black and white, but then they become colourful.
Symbols and payouts
There are nine pictograms in Happy Farm Scratch slot, which appear on cards in random way. It is possible to find which ones hide under the coverage right after its erasing. All symbols and their frequency is listed in Paytable.
Such characters fall out most frequently:
They give the smallest rewards, which varies from 0,5 to 2,5 virtual credits. Despite this fact this prize is enough to cover the expenses on card's cost. When three Rabbits or Roosters fall out in slots on net gambler can even get additional points.
The most profitable are Tractor and Horse – 5000 points. Though they appear rarely. The following symbols have "average" coin value:
It is necessary to note that the frequency of falling out is indicated only for one symbol, not the whole combination of three characters. There is no special ratio for pay-outs in Happy Farm Scratch. In this way, it is hard to build up the strategy – player is lucky or he just simply isn't regardless of the cards. 
Discover scratch cards and you will be surprized how these amazing games can provide the best time ever. Interesting theme with animals is only going to heat up your interest. Don't miss out on this interesting scratch game slot!
If you want to play this game with more features so visit [[$whereToPlayLinks]] casinos and enjoy the full mode.
More games from Greentube