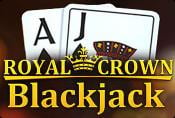 Online slot has three sectors with a possibility to place bets from 0,5 to 500 coins on each of them. There is a chance to double prizes, split and insurance.
Royal Crown Blackjack from Gaminator company – is a type of popular card game, the essence of which is in collection of card combination. There are 52 cards in the deck. User plays with virtual opponent and he has to collect the maximum number of points for cards combinations.
Find out the information about other developer in Developers of slot machine section on our website.
Royal Crown Blackjack casino table game
Game rules
The main aim of player in this slot e game is to have more points for card combinations than the opponent. The major thing is that the total number of points shouldn't exceed 21. When cards are dealt, each player has two cards and he can take additional ones. If player wins in a combination of several cards the amount of prize will be 2:1. If user gets blackjack right away, then the winning will be 3:2. When opponent gets an Ace as a first card, in such case player can use Insurance will partially cover the losses. With the insurance – player doesn't lose everything. Other winning combinations in this casino slot online are calculated 1:1. When there is draw players get back their bets.
General game rules are written in detail in section "Rules and game strategy in Blackjack" of our website.
How to play
Choose the rate size in Bet section. If you wish to place new bets use Clear button to cancel previous ones. Deal cards by pressing on Deal button. Here you can take additional card with Hit key. Stand button ends the deal of additional cards. Double key increases the rate in two times. Split divides two identical cards. If you want to get insured from opponent's blackjack press on Insurance button. New Bet helps you to place another bet in online slot games and Same Bet returns the previous one.
As far as win in blackjack depends on placed deposits, it is beneficial to play with maximum rate and use all three sectors.
Cards' value
Each card gives the certain number of points:
Two – 2 points.
Three – 3 points.
Four – 4 points.
Five – 5 points.
Six – 6 points.
Seven – 7 points.
Eight – 8 points.
Nine – 9 points.
Ten, Jack, Queen or King – 10 points.
Ace – 1 or 11 points.
The deal initially consists of two cards. Even such combination can give you blackjack.
Game peculiarities
In opposition to usual blackjack, Royal Crown Blackjack slot game with real money is played in the following way:
Virtual opponent deals two cards for himself and opens one of them.
When Ten or Ace falls out to opponent he says whether he has blackjack.
If opponent gets blackjack game ends.
When competitor gets and Ace, player can get insured from the loss.
The identical cards can be divided into two rows and add cards to each of them at the same time.
If Aces are in each row only one card is dealt.
Ace and Ten don't make blackjack after split.
The doubling of rate can be made with any cards but with these double rates it is possible to place only one card on sector.
When the cards are dealt, you cannot take back your bet and stop the game.
Try your chances playing in online blackjack.
Slot machine Royal Crown Blackjack will be a great variant for all lovers of card game. Use split, double for more effective gameplay and don't forget about insurance. This game of chance will surprise you with its simplicity and entertaining features.
If you want to play this game with more features so visit [[$whereToPlayLinks]] casinos and enjoy the full mode.
More games from Greentube